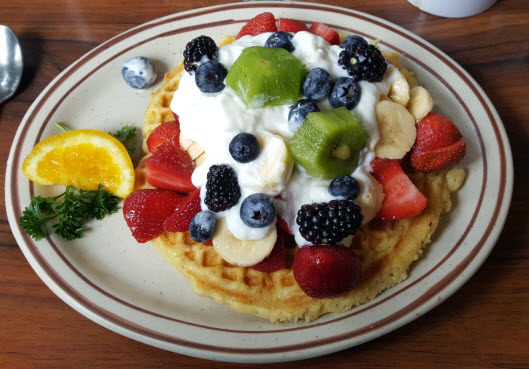 If you're looking for breakfast in Santa Cruz California, you've got a lot of great options. The combination of a beachy, outdoor vibe, warm weather most of the year, and a young, very social population means people really get into breakfast here. And that's great because you end up with menus filled with locally sourced, fresh, and delicious meals. So to help you narrow down the list of choices, here are what I consider five great Santa Cruz breakfast spots.
Some things to keep in mind from the outset:
The list is presented in alphabetical order. All of the restaurants offer great food, so there's no specific order of preference.
The recommendations are based on my own experiences, not from online reviews or other people's comments. I've been rotating between all of these restaurants on and off for the past 10 years, so I know that the quality of the food and the service is consistently excellent.
Although all five restaurants are worth visiting, none is particularly cheap. Santa Cruz is now a bedroom community for Silicon Valley, so unfortunately everything here is expensive. On the plus side, the food is really good at all of the places listed.
If you've got any comments are want to add other restaurants to the list, let me know in the Comment section below.
Harbor Cafe
Website: https://www.harborcafesantacruz.com/
Location: 535 7th Ave, Santa Cruz
Telephone: (831) 475-4948
Hours: 8:00am–2:00pm every day. Note that the waiting list closes before 2pm on really busy days. And there's almost always a wait to be seated outside.
Atmosphere: Known for it's relaxed, social vibe. Offers mostly outdoor patio seating at picnic benches. Very welcoming of dogs, including a special dog menu.
Favorite dishes: The Breakfast Burrito (if you're really hungry), the Pancakes, and the Fresh Fruit Bowl. The Eggs Benedict are supposed to be delicious, too, though I've never tried them.
Linda's Seabreeze Cafe
Website: http://www.seabreezecafe.com/
Location: 542 Seabright Ave, Santa Cruz
Telephone: (831) 427-9713
The locals all just refer to it as Linda's.
Hours: Monday–Saturday 6:00am–2:00pm, Sunday 7:00am–1:00pm
Atmosphere: A real mom-and-pop atmosphere with staff frequently greeting guests by name and chatting with them. The dining area is small and crowded, but it's like eating in a family dining room, so it's a really enjoyable experience.
Favorite dishes: The Special Waffle, the Blueberry Pancakes, and the Pancake Combo (pancakes and eggs with sausage or bacon)
Silver Spur
Website: http://www.scsilverspur.com/
Location: 2650 Soquel Drive, Santa Cruz
Telephone: (831) 475-2725
Hours: Monday–Saturday 6:00am–3:00pm. Breakfast served all day.
Atmosphere: Warm, friendly, and not at all fussy with 1970s throwback decor. Yet also bustling, with frequent long waiting lists and lots of regular customers chatting to the waitstaff. The owner is/was Linda, the woman who originally opened and ran Linda's Seabreeze Cafe. So she knows how to put together a great menu and create an inviting place to eat.
Favorite dishes: The Buttermilk Waffle Combo, the South of the Border Scramble, and the Western Omelet.
Walnut Avenue Cafe
Website: http://www.walnutavenuecafe.com/
Location: 106 Walnut Ave, Santa Cruz
Telephone: (831) 457-2804
Hours: Monday–Friday 7:00am–3:00pm, Saturday–Sunday 8:00am–4:00pm
Breakfast served all day. Lunch from 11am.
Atmosphere: In downtown Santa Cruz, just off of Pacific Avenue, so it's right in the middle of the action and tends to be bustling. Frequently a long waiting list, especially on weekends, but worth the wait. The only downside is that when all the tables are full inside, it's quite noisy. Well-behaved dogs are okay on their outdoor patio and a special dog menu is available.
Favorite dishes: For breakfast, the Ham, Grilled Peppers & Cheese Scramble and the French Toast with Grilled Bananas. For brunch, either the Southwest Chicken or the Cajun Chicken sandwich.
Zachary's
Website: http://www.zacharyssantacruz.com/
Location: 819 Pacific Ave, Santa Cruz
Telephone: (831) 427-0646
Hours: Tuesday–Sunday 7:00am–2:30pm, closed Mondays
Atmosphere: Lively, crowded, and friendly. It's on the main strip in downtown Santa Cruz, so there's always a long line waiting to be seated and a packed dining area. Great for large groups and people looking for a bustling venue.
Favorite dishes: The Basic Breakfast with fruit, Mike's Mess (lots of things mixed together), and the Create an Omelet. Lots of diners love the sourdough pancakes, though I prefer buttermilk ones (which are not served here).
Related posts
If you're looking for other surf destination recommendations, check out these related posts: