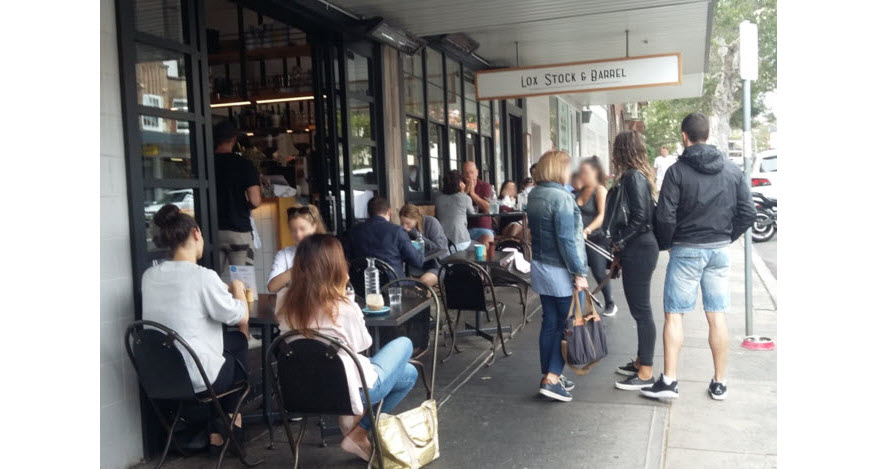 Bondi Beach is world renown for great surf and a vibrant social scene. It also has a wide range of excellent casual restaurants where you can get locally sourced, fresh, and delicious meals. So to help you narrow down the list of choices, here are what I consider the five best places to grab breakfast in Bondi Beach.
Some things to keep in mind from the outset:
The list is presented in no particular order.
The recommendations are based on my own experiences, not from online reviews or other people's comments.
Although all five restaurants are worth visiting, none is particularly cheap. Because there's a very high minimum wage in Australia, eating out tends to be significantly more expensive than anywhere else you're likely to have visited.
If you've got any comments are want to add other restaurants to the list, let me know in the Comment section below.
Good One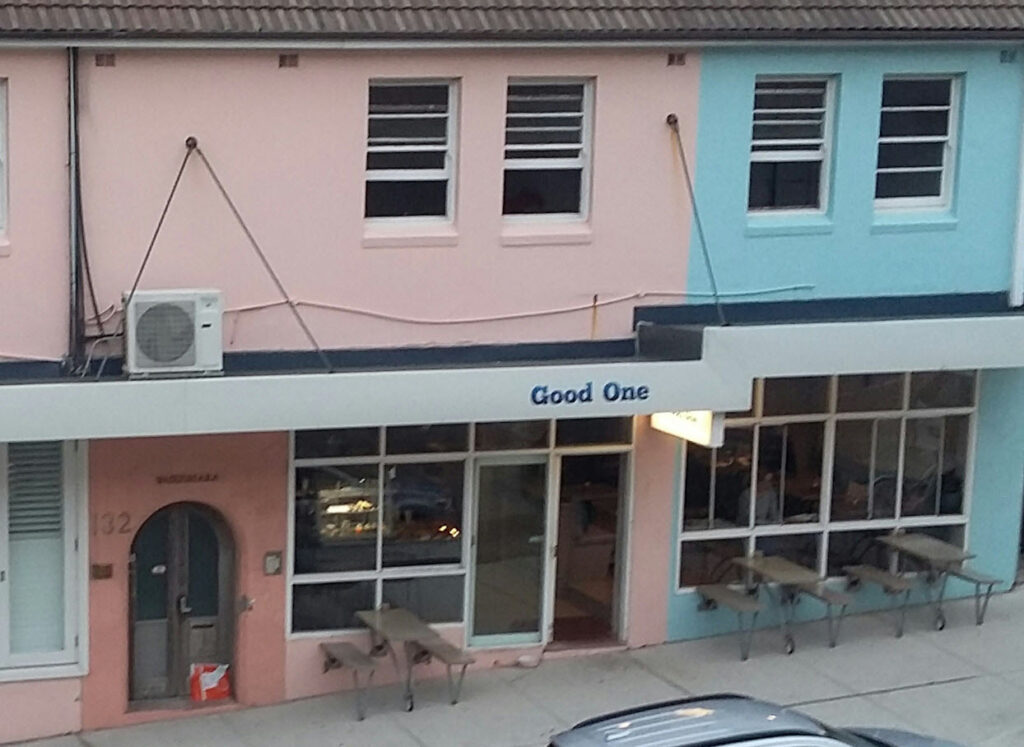 https://www.goodonebondi.com.au/
132 Warners Avenue, Bondi Beach
6.30am–4.00pm  Every day

Atmosphere:  Because it's about 100 yards away from the downtown area, it feels much less touristy and more of a locals spot. Lots of people reading the newspaper and chatting in small groups. No WIFI available, which probably explains the newspapers and chatting.
Recommendations:  The Buttermilk Hotcakes were very good. They come topped with a berry compote, a pistachio streusel, and a dollop of vanilla marscapone. I'd highly recommend them. The coffee was also strong enough to stand a spoon up in. Overall, an excellent meal. As an added bonus, breakfast is served all day.

Prices: Expensive, but typical of the Sydney area. Breakfasts ranged from $10.50 to $25 (Australian dollars).
Drake Eatery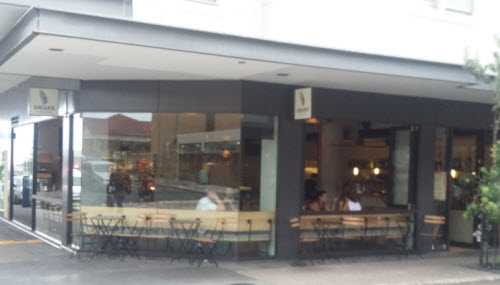 http://drakeeatery.com.au/
Corner of Gould and Curlewis Street, Bondi Beach
7:00am–10pm Weekdays
8:00am–10pm Weekends
Atmosphere: Classy, but comfortable. Definitely the sort of place I could see businessmen having breakfast. Though the two mornings I ate there, most people were casually dressed in shorts and flip flops.
Recommendations: The Roasted Muesli, Rhubarb, Bondi Yoghurt, Apple dish I had the first day was tasty. I must admit, though, that I was slightly disappointed that the apples were just sliced, instead of stewed. Stewed apples with rhubarb and yogurt would have made the dish perfect. The Toasted Crumpet, Bondi Honey, Ricotta, Banana, Walnut breakfast, which is a house speciality, was very good when I ordered it the second day I visited. The crumpets were served with local honey, ricotta cheese, chopped walnuts, and sliced bananas. Although there was a lot of food on the plate, the dish was light, healthy, and filling without being overwhelming. Of the two dishes, I'd probably recommend the muesli, largely because I'm a big fan of rhubarb and it's not easy to find in restaurants.
Prices: Slightly cheaper than Good One, but the amount of food served is smaller, too. Most breakfasts cost $12 to $19 (Australian dollars).
Swell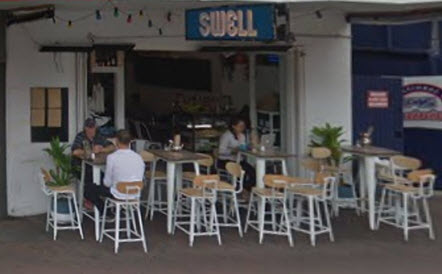 http://swellbondi.com.au/
157 Curlewis Street, Bondi Beach
Sunday — Wednesday  6:30am – 5:00pm
Thursday — Saturday  6:30am – 22:00pm
Atmosphere: The sort of place you'd go for a quick, informal and healthy bite before or after a surf session. I liked the very casual and comfortable vibe and the slower pace of this spot. Because breakfast seems to be a popular meal in Bondi, many good restaurants tend to have a somewhat frenetic pace. Not so here at Swell, where the waiters are attentive but don't dash about or hover over the clientele.
Recommendations: I ordered the Brekkie Taco and really enjoyed the Mexican flavor. It's a delicious combination of scrambled eggs, chorizo, onion, avocado, and coriander/cilantro served on a flour tortilla.
Prices: Slightly cheaper than most of the places in this list. Dishes range from $10 to $18 (Australian dollars) but most dishes are on the lower end of the range.
Lox Stock & Barrel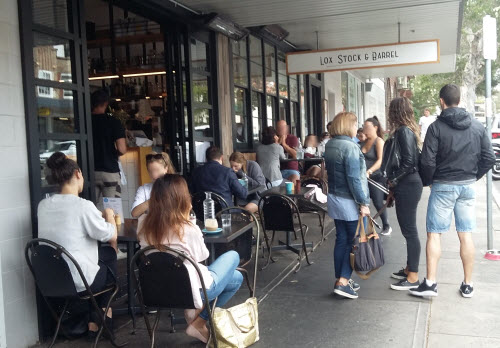 http://loxstockandbarrel.com.au/
140 Glenayr Ave, Bondi Beach
Sunday — Tuesday  7:00 am – 3:30 pm
Wednesday — Thursday 7:00 am – 3:30 pm / 6:00 pm – 10:00 pm
Friday — Saturday  7:00 am – 3:30 pm / 6:00 pm – 11:00 pm
Atmosphere: Busy, bustling, vibrant, and lively. Judging by the number of people eating in and getting to-go orders, this is one super popular place to go for breakfast. I really liked it but it's not the sort of place to go if you want to relax in peace and quiet. There's a lot of dashing around going on. This is no doubt related to the excellent food they serve.
Recommendations: I ordered the Brioche French Toast, which was topped with ricotta cheese, sliced bananas, chopped hazelnuts, and maple syrup. Although it wasn't a huge amount of food, it was delicious and very filling. Unlike a lot of other local restaurants, the chef/cook had taken time to present the food attractively, which added to my overall enjoyment of the dish.
Prices: $6.00 to $18.00 (Australian dollars), though most dishes are $15 and above.
Gertrude & Alice Book Shop and Cafe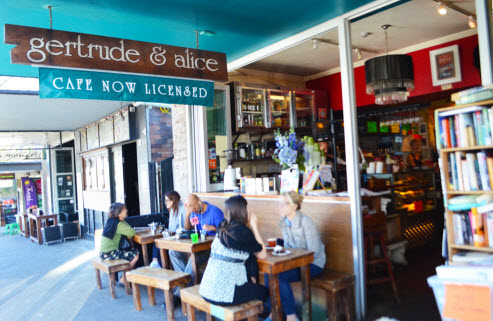 https://www.gertrudeandalice.com.au/
46 Hall Street, Bondi Beach
6:45am–9:00pm  Every day
Atmosphere: Relaxing, cozy, and welcoming. The majority of the tables inside are squeezed in among the bookshelves and the overflow book stacks on the floor. Eating here is a real treat. It's all nooks and crannies and privacy; like some secret club that serves great food. If I lived in Bondi, I'd hit this place up multiple times each week.
Recommendations: I really enjoyed the Breakfast Crumble that I ordered. It contained apples, pears, and berries and came with a delicious coconut-flavored yogurt. The Americano coffee was rich and delicious, too, though so strong I didn't blink for five minutes after finishing it. Breakfast is served all day.
Prices: $10.00 to $18.00 (Australian dollars), though most dishes are $10 or $12.