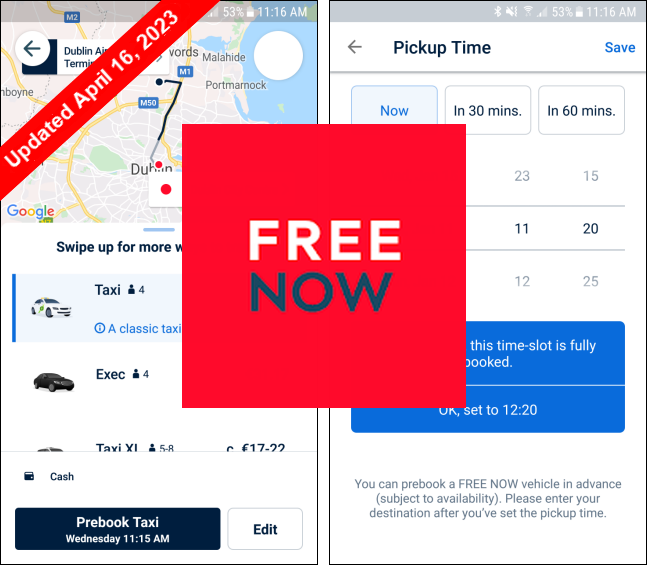 April 16, 2023: FreeNow just announced changes to their fee structure, with more categories of "sins" that will cost you 5 euros. It's unclear if the 5 euro fees are mutually exclusive or if they could be added together on the same trip, but what is clear is that they've also added a Technology Fee. As FreeNow describes it:

"The value of the fee, for a specific order, will vary and be influenced by a number of factors which may include which transportation method is ordered by the passenger, the time for which a passenger orders a ride, market conditions at the time of placing the order and/or other factors." 

That sounds suspiciously vague, but at least you'll know before you book the trip how much the fee will be.

OUR OPINION: Unless you need a very specific kind of taxi or you need it at an out-of-the-way location, we don't see any benefit to using this service. The rates are the same as regular taxis and if you hail a taxi on the street, you don't have to be concerned about them assessing fees and penalties on you.

April 8, 2023: Updated the content to reflect changes to the number of cities in Ireland in which FreeNow is available. Kerry and Waterford are no longer listed on the website, so we're assuming service is no longer available in those cities.

November 8, 2022: Updated the content to reflect changes to the number of cities in Ireland and countries in Europe in which FreeNow is available.

January 11, 2020:Based on feedback from readers and media reports, we've rewritten this article to reflect the changes that have recently been made to the Uber in Ireland alternative. The Uber-like app, which was called MyTaxi.com, has been renamed to FreeNow. Why a taxi-hailing company would voluntarily rebrand from MyTaxi to FreeNow is beyond me. Secondly, although it's free to use the app, from July 2019, you get charged a 5 euro fee if you book a taxi and then decide to cancel it more than two minutes after the driver has accepted the fare. You also get charged 5 euro if you fail to appear at the pickup site within 5 minutes of the drivers' arrival. Not exactly "free" now is it?

In addition, after a December 2019 app upgrade, a large number of users are reporting getting the same error message when trying to use the app. After logging in, the screen displays,  "We're sorry, something went wrong. Please try again in a few seconds." The solution is to clear your phone cache, but this is another indication of why so many users are turning away from what was a massively popular app.
If you're wondering if there's Lyft or Uber in Ireland, the answer is "not really." Lyft does not operate (yet) in Ireland and Uber can only be used to call a taxi or limo. That's because private drivers in Ireland are not allowed to carry paying passengers. In order to charges fares, a driver must hold a taxi license and have taxi insurance. Despite this restriction, however, there is a (now somewhat less) popular Uber and Lyft alternative called FreeNow, formerly known as MyTaxi.
FreeNow is simply a way to book a taxi in advance and know how much your fare is going to cost. You can pre-book a taxi up to four days in advance, which is good if you're trying to organize something critically important like an airport transfer. It also gives you the option of paying by credit card, so you don't have to have money on you when you're in the taxi. The app can be downloaded to your mobile device and used in 4 major Irish cities as well as in over 100 cities in the following 9 other European countries.
Austria
France
Germany
Greece
Italy
Poland
Portugal
Spain
United Kingdom
Note: Because you get charged if you book a fare and then cancel it, if you're in a city or at the airport, there's no real advantage to using the app versus hailing a taxi yourself.
Coverage area
In Ireland, FreeNow is available in the following cities:
Cork
Dublin
Galway

Kerry

(new entry in the list in November 2022, no longer appearing as of April 2023)

Limerick

Waterford

(No longer appearing as of April 2023)
FreeNow has both an Android and iOS app as well as a web page for ordering a taxi. And up until it started charging fees for cancellations, it was wildly popular in Ireland. According to the Irish Times newspaper, "By 2017, one-fifth of the Irish population had its app installed on their phones." ("How Mytaxi killed Irish taxis and now owns the future," May 15, 2019)
Booking process
Like Uber and Lyft, FreeNow has a very intuitive workflow so you won't have any trouble booking a taxi.
Once you enter your current location and destination, the route you'll take appears on a map. Below it, you can choose the kind of taxi you want to take.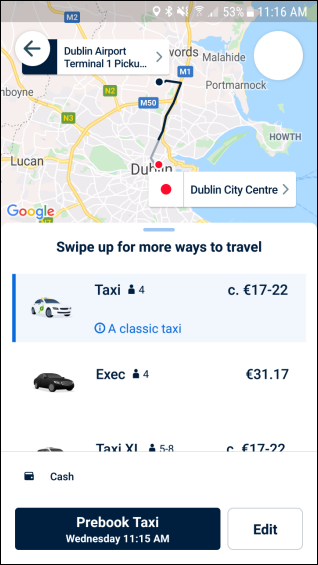 After tapping the Book Taxi button (or Prebook Taxi button if you're booking in advance), a confirmation screen appears. Your current location, destination, pickup time, and taxi choice are listed on the screen for you to review.
Features
Like Uber and Lyft, FreeNow allows you to do any of the following:
Preorder a taxi up to four days in advance
Track your driver as you wait
Rate the driver after the trip
Add a tip to the fare
Unlike Uber, at the end of the journey you have the option of paying by cash rather than by debit, credit, or PayPal. This is specified during the booking process.
Booking options
The following additional options, some of which add a significant cost to the fare, can be requested when booking a car:
A five-star taxi
A favorite driver (one that has driven you before)
A high-end vehicle
A taxi van (a larger than normal vehicle)
An airport trip
A vehicle that can accommodate pets
A courier trip (if you need to send a package but don't want to go with it)
Related links
If you liked this content, check out our other A Tourist Guide to Ireland posts: