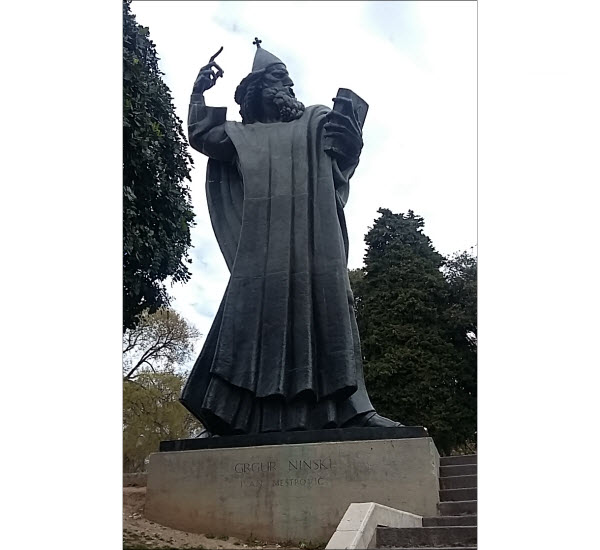 Twenty-eight foot tall bronze statue of Grgur Ninski (Gregory of Nin) located in Split, Croatia. The statue was originally erected in 1929 within Split's Diocletian's Palace, but was moved in the mid-1950s to its current spot just outside the Old Town's Golden Gate.
The statue was created by Croatia's most famous sculpture, Ivan Meštrović. Other notable works by him include the Pieta inside the Basilica of the Sacred Heart at the University of Notre Dame (Indiana) where he was artist-in-residence until his death. Chicago residents might be familiar with his statues The Bowman and The Spearman, which are located inside Grant Park.
The subject of the Split statue, Grgur Ninski, was a Medieval Croation bishop who introduced mass in Croat instead of Latin. This move was significant in two ways. It made it possible for regular Croatians to follow what was going on during the service, thereby strengthening the influence of Christianity in Croatia. And it elevated the Croatian language's importance in society.
The most prominent feature of the statue is Grgur's shiny big toe. Legend has it that touching the toe is guaranteed to bring good luck, so huge numbers of visitors to Split drop by the statue each day to rub the toe.