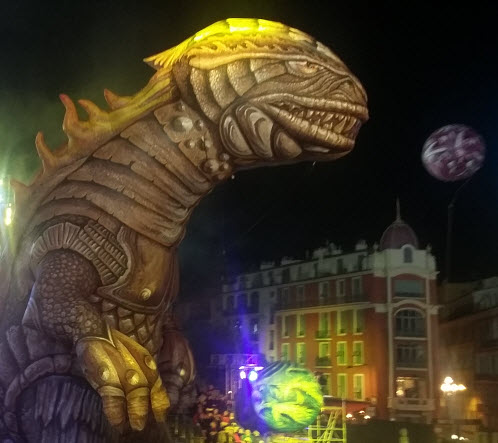 Godzilla "walking" through Place Massena during Carnival in Nice (2018). The celebration is one of the largest carnival events in the world. Each year, over a million visitors come to cheer on the bands, gape at the floats, and marvel at the giant balloons during the festival's 15-day run.
The theme of Carnival changes each year. In 2018, it was Space, in 2019, Cinema, and in 2020, it will be Fashion. Despite the different themes, the overall style of the floats is roughly the same. And to be blunt, it's truly the stuff of fever dreams and childhood nightmares. Think Cirque du Soleil on acid. Lots of acid. The 2020 festival runs from Saturday February 15 through Saturday February 29.
For more details about the festival, check out the official website in English. For additional photos from the 2018 celebration, check out our post Fever dream central: Your guide to Carnival in Nice.