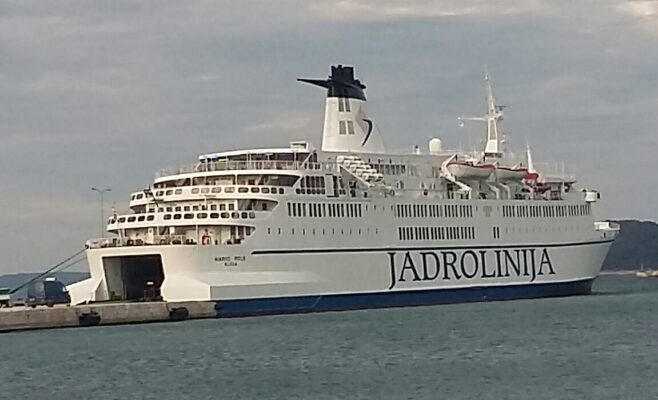 What this post covers
If you're arriving by train to Ancona station and need to pick up your Ancona to Split ferry tickets, this blog post should make the process a lot less confusing. Because let me tell you, there's nothing intuitive about any of it.
I took the ferry on March 26, 2019 and though I had read some very helpful blog posts in advance, I still found the experience to be overly complicated and frustrating. Much of that has to do, I think, with the fact I was traveling in the off-season and the process seems to be even less efficient at that time of year. Which is a remarkable achievement considering how bad it apparently is during normal circumstances.
Ancona to Split ferry cost
If you haven't purchased your tickets yet, the best resource I could find is the Direct Ferries website. It provides comparisons of ferry crossing costs, times, and dates, so you can find the voyage that best suits your travel plans. A one-way ticket as a foot passenger will run you about US $38 whether you sail aboard a Jadrolinija or SNAV ferry. Round-trip on either ferry line is roughly US $71.
Sailing days and times
There are two companies that run ferries between Ancona and Split.
Jadrolinija runs up to four ferries a week in each direction during the busy summer months. During the shoulder season (spring and fall), they run three times a week. And during winter, they run twice a week. Crossings take around 10 hours and 15 minutes. Check out the Jadrolinija ferry schedule for 2019 (PDF) for specific sailing days and times.
SNAV runs up to six ferries a week in each direction during the busiest months. Crossings take around 9 hours. In the fall and spring, SNAV ferries run three and four times a week in each direction. SNAV ferries stop running the first week of November and remain out of service until the end of March.
Although SNAV and Jadrolinija have their own websites, both sites are poorly designed and difficult to use. We recommend doing your research via DirectFerries.com, which will allow you to compare the schedules and costs of sailing on each company's ferries.
Some important notes
These instructions and notes are for off-season foot passengers traveling from Ancona on any of the ferry lines.

I'd appreciate hearing from anyone who goes during the tourist season so I can update this post to point out the differences.

I don't know about other ferry lines, but Jadrolinija notifies all Ancona to Split ferry passengers that they must check in no less than 2 hours prior to departure. In the off-season at least, this is not necessary for Ancona walk on passengers. The passport control office doesn't even open until 2 hours prior to departure, so if you show up at 4:30pm for a 7:30pm departure, you'll be waiting in front of a locked door for the first hour.
During the off-season, bus #20 does NOT go to the train station. However, the sign that tells you this important fact is not posted at the train station.

The sign is posted on the inside of bus #20, which you'll never see if you're waiting at the station

.
Bus #12 DOES go from the station to the ferry ticket offices, but the bus stop does not display any bus schedule. I waited 25 minutes for the bus and it never came. Note that the #12 bus stop at Ancona Station is 10 yards to the left of all of the other bus stops. It's on a small concrete island roughly in line with the station's pizzeria.

Ancona train station: bus stop #12

The #12 sign on the island is badly faded and faces away from the station. Which means, you can't read it as you exit the building.

If you're lucky enough to catch the #12 bus, skip to Step 12 below. Note that if you take bus #12 to the offices, you need to take bus #20, not bus #12, after you get your ticket.
There is no food kiosk, tobacco shop, or restaurant at the ferry terminal, so if you want to bring food and drinks on board, you should buy them before leaving the train station area. The ferry terminal has a sign that says there's a restaurant, but I couldn't find it. A lot of the business spaces at the terminal are vacant, so I expect one was once the restaurant.
There are a couple of vending machines inside the terminal building if you want junk food.
Quick preview: Where things are and how to get there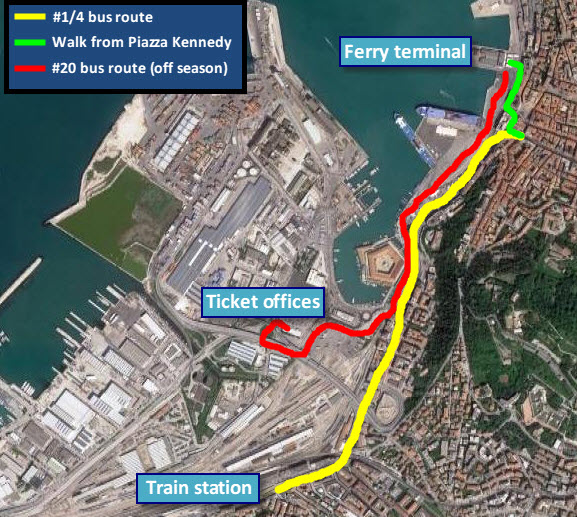 How to get your ferry tickets
Take Bus #1/4 or Bus #1/5, which depart directly in front of the station.

Ancona train station: bus stop #1/4 and #1/5

You will be getting off at Piazza Kennedy.

Buy your ticket on board from the yellow machine. The cost is 2 euro. There are six unmarked buttons on the front of the ticket machine and the small electronic screen presents instructions only in fast-scrolling Italian. I just kept hitting buttons until I saw a prompt for 2 euros. After inserting the money, a ticket popped out. I don't know if I was supposed to validate the ticket somewhere because we were nearly at Piazza Kennedy by the time I got the ticket to dispense.
The entire bus ride only takes 4 or 5 minutes.
Keep your eye on the onboard electronic notification sign. Piazza Kennedy is about the fifth or sixth stop. And note that Piazza Kennedy is not some broad city plaza, it's just part of a regular street.
Get off at Piazza Kennedy and walk downhill away from the bus.

Piazza Kennedy, Ancona

Cross the busy street and turn right.
At the first street, turn left and walk a very short distance down hill.
The street ends at a T-intersection with the port in front of you.
Turn right and walk down to the ferry terminal, which should be clearly visible to you ahead on your left.
As you reach the ferry terminal, if you have your ticket already, get in the passport control line.
If you don't have your ticket, wait at the #20 bus stop, which is at the very front of the terminal on the left as you are looking out to sea.

Ferry Terminal, Ancona

When the #20 bus arrives, hop on. The bus is free and in the off-season at least it only goes to and from the ticket office. So you can't get lost at this point. The bus will meander for about 7 minutes, winding all over the port and under freeway overpasses. Don't worry, you're on the right bus.
When the driver arrives at the ferry offices, go inside and get your ticket at the counter for whichever ferry company you are traveling with.
After you have your ticket, get back on the bus and head back to the terminal.
Get in line for passport control. Note that some ferry lines make their Ancona to Split ferry passengers queue on the right side of the terminal. Some make them queue on the left. A large sign tells you which side you should be on.
Summary
That's it. You're literally on your way at this point.
If you've got any questions, have additional information, or need me to clarify anything, drop me a line in the COMMENT section below.