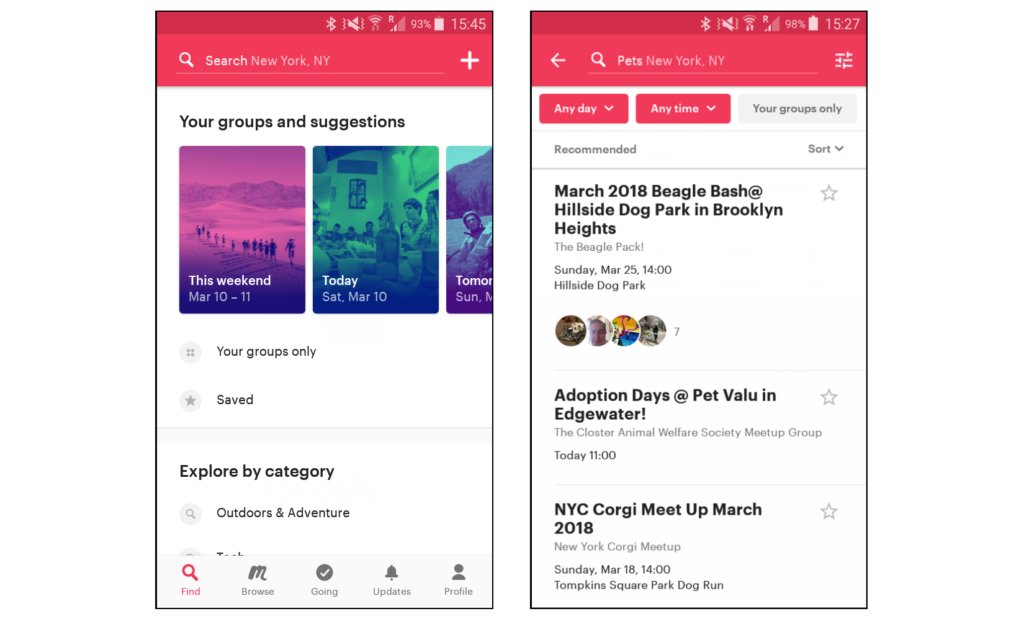 One of the newest travel apps I've added to my smartphone is Meetup.com and it's rapidly becoming a staple of my social life. This despite having the worst corporate logo I've ever seen. I'd love to pick the brains of the Meetup Marketing team that decided that "bloodsplatter" was the imagery they wanted to associate with an app encouraging people to contact total strangers.

But I digress.
Meetup.com benefits from the following five general strengths: ease of setup, ease of use, variety, cost, and popularity. Each of these facets is described in detail below, along with a few comments on reported issues and areas I see for improvement.
If you've got any additional feedback, let me know via the Comment section below.
The app is available for Android and iOS devices. There's also a website version you can access from your desktop at https://www.meetup.com/
Ease of Setup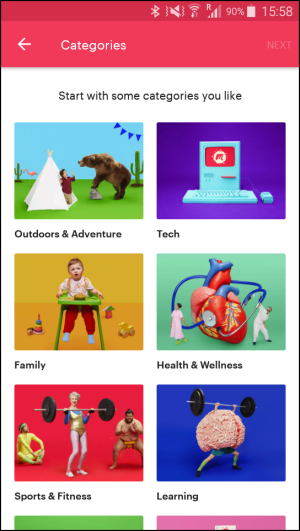 Perhaps the most important aspect of any online app is ease-of-setup. It doesn't matter how feature-rich and powerful an app is, if people can't figure out how to get up and running with it, it's a dud. Fortunately for the Meetup.com team, they've created an onboarding process that is a model of user friendliness.
Knowing only the bare basics about it in advance, I downloaded the app and managed to get up and running within minutes. By following the on-screen prompts, I was able to create a user profile, identify the general categories that interest me, identify the specific activities within categories that I was interested in, join groups, and review lists of upcoming meet-ups in my area. On a scale of 1 (poor) to 10 (fantastic), I would give it a score of 9 for Ease-of-Use. It doesn't get a 10 because the app does not have a built-in help system if users run into problems.
Ease of Use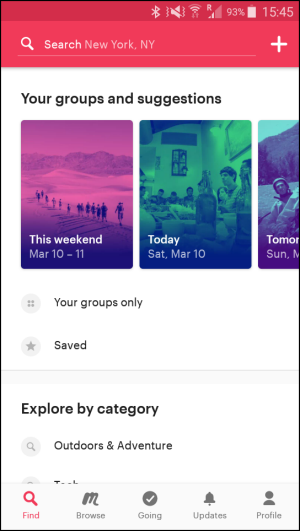 I really like the intuitive and easily navigable layout of the user interface. Each time you log in, you start from a screen containing a search engine at the top. Under that is a calendar-based slider that allows you to scroll to see what's on each day. You can view events occurring This weekend, Today, Tomorrow, Next week, Next weekend, or Any day. To make it even more useful, you have the option of filtering the meetups to show only those for groups you belong to and/or those that you have saved. Below the calendar is the list of activity categories in case you want to find a meetup via that method.
At the bottom of each screen within the app is a persistent set of links:
Find – Allows you to search for meetups
Browse – Allows you to see the most popular meetups in each category
Going – Allows you to see the meetups you are registered to attend
Updates – Allows you to review and initiate any updates to the software
Profile – Allows you to access your profile in case you want to change your details
Variety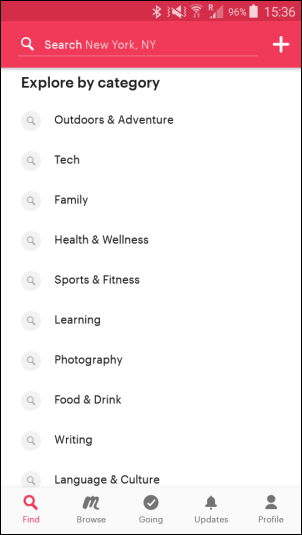 The Meetup.com app provides 24 categories of interests to explore, so it encompasses just about anything you could possibly want to do. Love to read? There's a category devoted to Book Clubs. Prefer to spend the days out doors? Try the Outdoors & Adventure category. Have a business idea you want to get off the ground? Click to explore the activities listed under the Career & Business category.
An important caveat here: although there are 24 categories, that doesn't mean that there are activities in your town for each category. I live in a town with about 350,000 residents and of the 24 categories, 7 of them are empty. Given all of the other categories with lots of activities, that's not a major concern. For people living in or visiting small towns, though, I imagine the app would be less useful.
Cost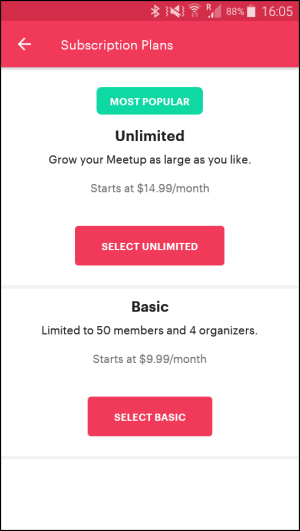 The app is free to download. It also costs nothing to create a membership or to join groups. Meetup.com does not charge you if you attend an event. They do charge, however, if you want to create a meetup. Currently the rate structure for organizers is as follows:
Group with up to 50 members and up to 4 organizers: $9.99/month.
Group with unlimited members and unlimited organizers: $14.99/month.
Organizers can recoup the cost of the monthly fee by charging attendees to participate.
Popularity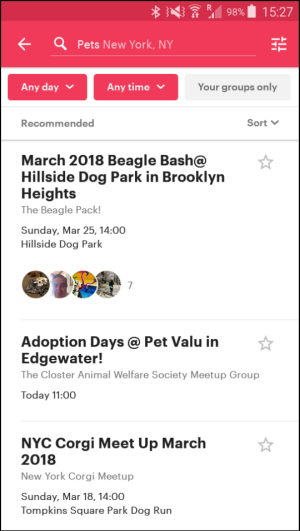 The key to the success of an app like Meetup.com is its popularity. If no one uses the app, it's worthless. According to the Media page on the Meetup.com website, as of March 2018 there are 35 million members worldwide, 307,000 meetup groups, and in the past month, over 3 million people took part in a meetup.
For smaller communities, there might not be a sufficient number of participants to make the app useful. But for medium to large size cities, it's got a lot to offer. In New York City, for example, the Pets category currently lists 45 planned meetups, from a Beagle Bash to a Corgi Meet Up.
Problems with the App
One major drawback I see in the app relates to its search engine's Location feature. You can only search for activities within at most a 100 mile radius of your current position. And that position is determined by either enabling the Location feature on your phone or by manually entering it into your Profile.
The problem with this is that if you're planning to be in a distant city next week or next month, there is no fast and easy way to access the meetups planned for that city before you arrive. Which means that it's more difficult than it needs to be to plan anything in advance. To view meetups in a distance city, you must turn off the automatic Location feature, change your profile location to the city you're going to, find a meetup, and then change the location back to your current one. If you forget to do the last step, you will no longer see meetups scheduled for your current location.
Overall Review
Overall, I really like this app. I see a lot of potential with it, especially for solo travelers looking for people to hang out with. It's easy to use, varied, popular, and free so I imagine it will continue to attract new users and retain existing users well into the future.
Related Links
If you found this information helpful, check out our reviews of these other travel-related apps:
Travel apps: Polarsteps review