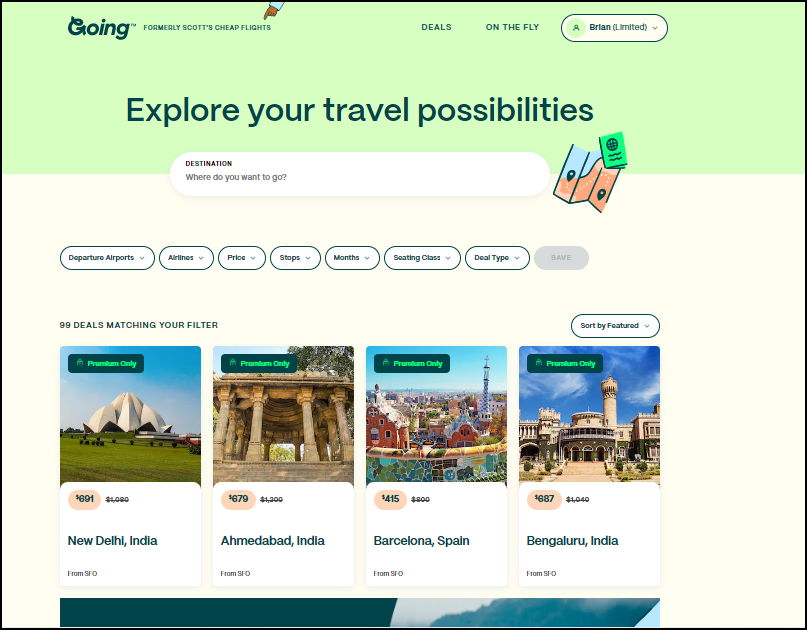 CONTENT EXTENSIVELY UPDATED: April 6, 2023

ScottsCheapFlights.com changed its name to Going.com in January 2023. From what we can tell, the most obvious changes to the website are:

The default page no longer shows travel deals that are available to regular (non-paying) users

; it shows only Premium deals that you have to become a paying member to access. In fact, we couldn't find ANY deals available anywhere on the site to non-paying customers.

The site now offers deals on domestic travel

.

The site no longer shows fare ranges based on specific dates

. You're just given a general idea of how much a fare will cost based on the deal discovered by

Going.com

.

The site no longer shows fares from other airports to your destination

. This is too bad, because it means you might miss out on a cheaper fare from an airport that's close to your selected airport.

So, from what we can tell, the site now offers a wider range of deals to users, you just have to pay to access those deals.

Travel On!
If you love to travel, this Going.com review is something you're going to want to read closely. Because using their website app you could save money, lots of it, each time you take a trip. The whole concept behind it is a no-brainer for people looking for domestic and international flights, so it qualifies in my book as an Outstanding App for Die-Hard Travelers.
Going.com benefits from the following four general strengths: simple sign-up process, ease of use, cool features, and reasonable yearly cost. Each of these facets is described in detail below, along with a few comments on features I would hope they add in the future.
If you've got any additional feedback, let me know via the Comment section below.
Ease of Sign-Up
As with all good websites, signing up for Going.com is fast, easy, and intuitive. All you've got to do is enter an email and create a password and you're in.
Indicating Your Preferred Airports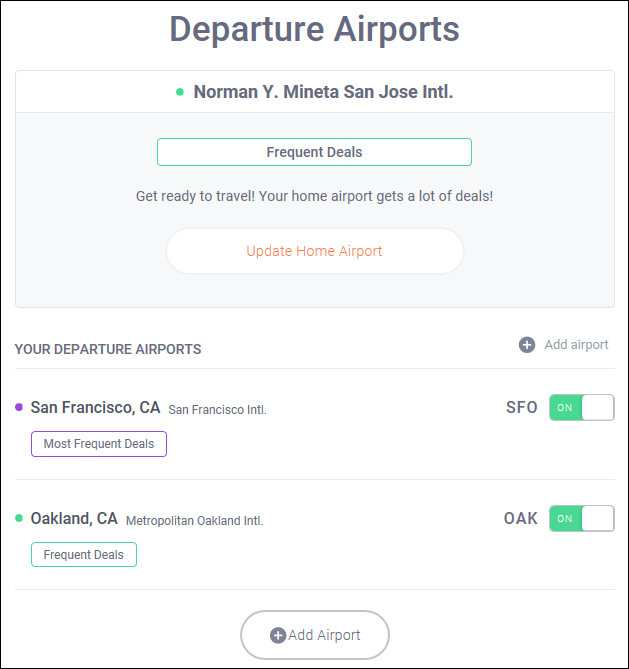 To limit the deals you see to the airports closest to you, you simply click the hamburger menu in the top-right corner of the screen and click Departure Airports. You then set a Home Airport and add any other airports you want. The great thing about this page is that it indicates how often deals appear that depart from the airport you selected. So, for example, San Francisco International Airport is listed as having Most Frequent Deals, while nearby San Jose Mineta International Airport is listed as having Frequent Deals and a tiny airport like Monterey Regional is listed as Not Supported. The odd thing is, even though you can turn off notifications for an airport (such as Monterey Regional), there doesn't seem to be any way to remove it from your list. Not a big deal, but kind of an obvious oversight in terms of usability.
Deciding Which Kinds of Notifications You Want to Receive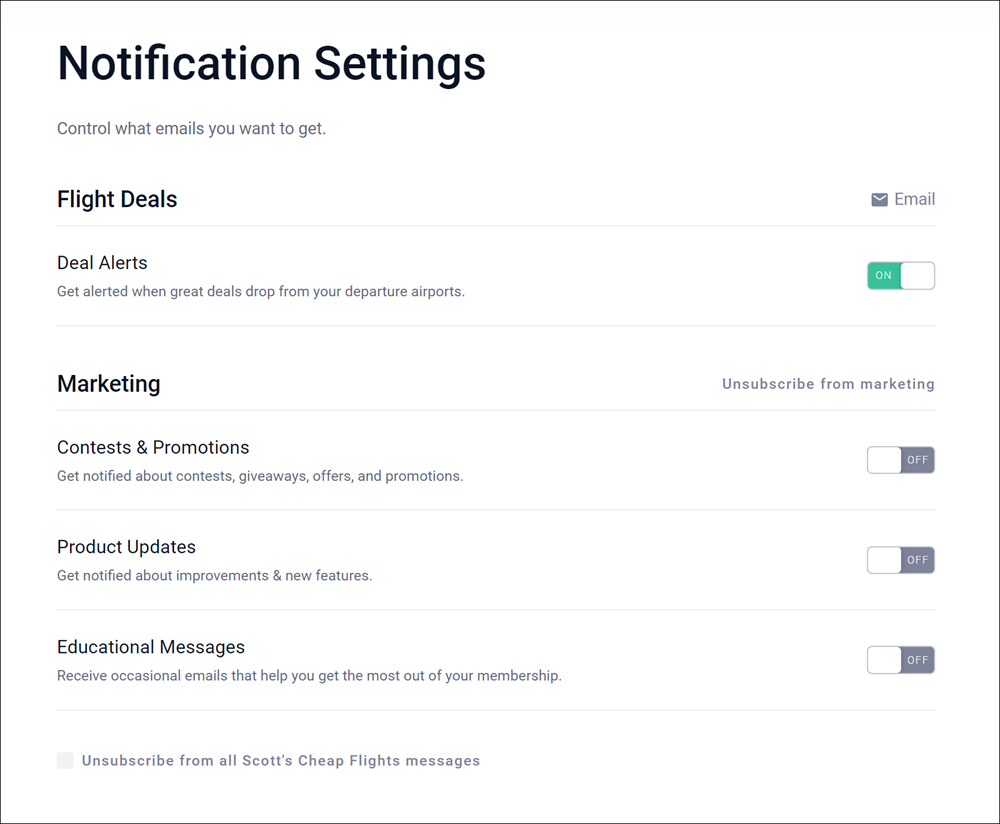 This is by far the best part of the sign-up process and the one that shows you what kind of (great) company Scott's Cheap Flights is. Many web-based companies insist that you provide an email address, and then send you non-stop advertisements and promotional materials. In contrast, Scott's gives you full control over the kinds of notifications (if any) you want to receive:
Deal alerts
Contests & Promotions
Product Updates
Educational Messages
If you don't want any emails, you deselect all four options and just log in to the website whenever you want to start searching for a deal. As someone whose Inbox is flooded with junk I don't want to know about, I have to say I love the way this is handled.
On a scale of 1 (poor) to 10 (fantastic), I would give the sign-up and onboarding (pardon the pun) process a score of 10. It's so intuitive, I can't imagine anyone getting confused or signing up for something they don't want.
Ease of Use
Reviewing All of the Current Deals Leaving from Your Departure Airports
This feature, which is one of the main components of the website, is particularly well done. And like the rest of the website, it's very intuitive. You log in and click the Deals link in the top menu bar and you're shown all of the deals originating from the departure airports you selected in your profile. Unlike sites like Orbitz and Travelocity that show you random "bargains" that you have no interest in (from Johannesburg to Lome-Tokoin for $359), Going.com only displays flights you might actually want to book. That makes researching and planning your trip much faster and easier.
I also like the way the deals are presented, as shown below.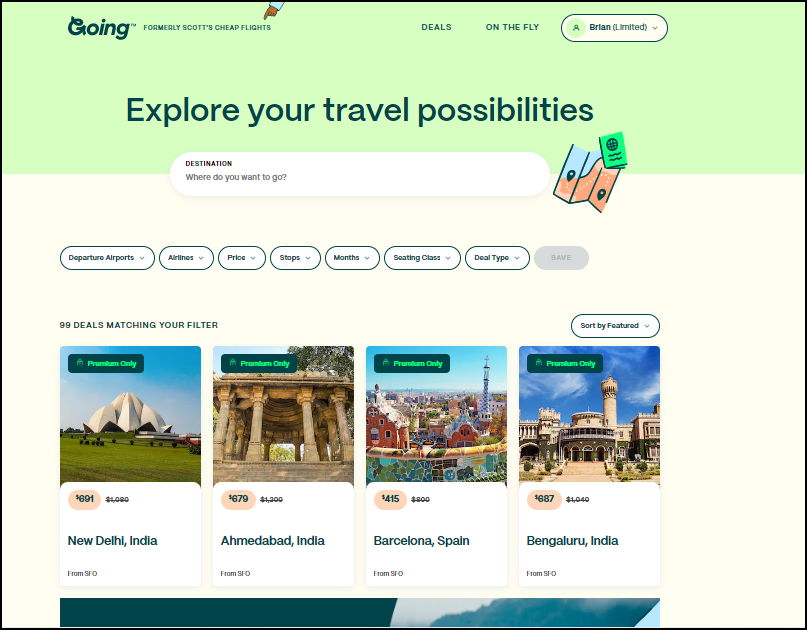 Each deal includes an alluring photo of the destination to help you visualize yourself there and provides the following basic details:
The cost for a one-way or round-trip flight if you get the

Going.com

deal
The cost for the same flight if you paid full price
The departure airport that the deal is based on (this is configurable by you)
It's a visually appealing, uncomplicated, uncluttered, and highly descriptive way to present a lot of important information in a small space.
Reviewing the Details About a Particular Flight You're Interested In
For complete details, you click a photo on the Deals screen and an expanded description opens on a new screen, as shown below.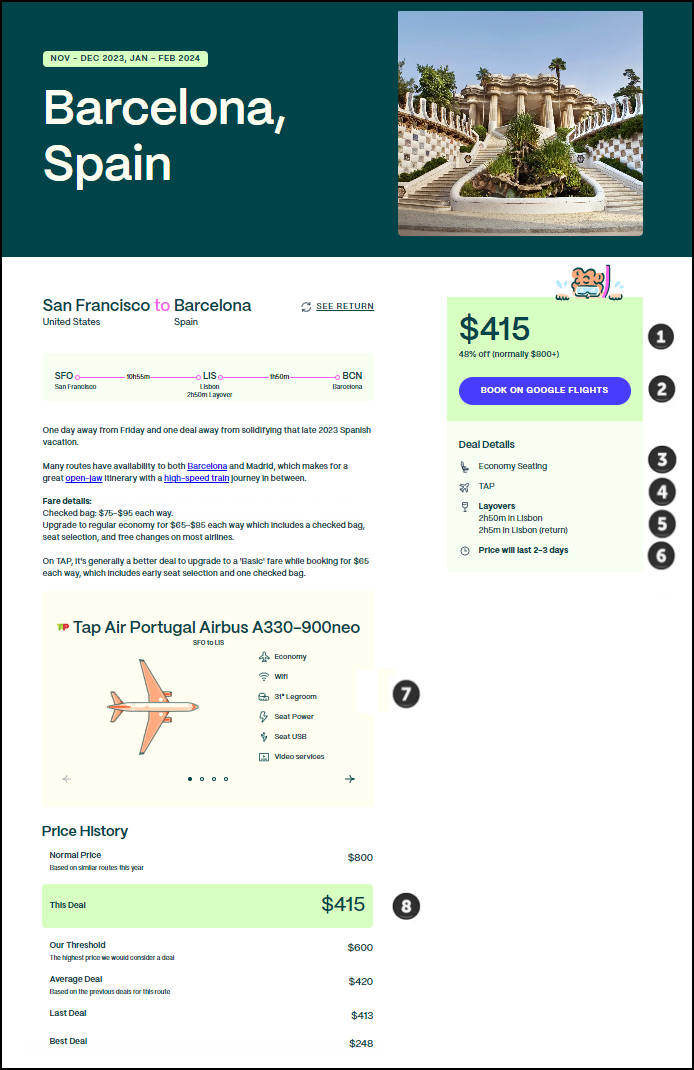 There's a lot of important and useful information on this page. The numbers below correspond to the numbered regions in the image above.
How much the bargain fare is and how much a regular (normal) fare usually costs. Great for figuring out just how much of a bargain the flight is.
Link to Google Flights. As noted in the next section, Going.com doesn't try to be Orbitz or Travelocity or Booking.com. They focus on providing flight info and let Google Flights handle the actual booking process.
The travel class that the fair applies to: Economy, Economy Premium, Business, or First.
The names of the airlines offering the deal. Hugely important, so that you don't end up booking a flight on RinkyDink Airlines, for example.
The location and length of any stopovers
The estimated expiration date (or time) of the fare. These are just estimates, so the fare might disappear sooner. For things like Mistake Fares (available to Elite subscribers only), the timespans can be as short as hours.
The kind of aircraft used on each leg of the journey, including details about the features of each aircraft, such as amount of amount of leg room, wifi availability, seat USB ports, seat power supply, and so on.
Price history, including the current price, the "normal" price, the last price, and the best price. It's not clear what the latter two refer to — we're guessing it means the price that was returned the last time someone did a similar search and the best price that has been observed (for how long?) for that journey.
Booking a Flight
Although you might expect to be able to book your flight directly through the Going.com site, that's not the case. They focus on finding you the best fares possible as soon as they become available. At present, at least, they're not trying to compete with internet flight booking apps. So when you see a deal that interests you, you click the Get deal on Google Flights button below the listing. The Google Flights page then opens with all of the flight details filled in automatically, allowing you to purchase the ticket without hassle.
Feature Summary
There are a lot of cool features with this app, the major ones of which I've listed below.
Regular fare displayed beside bargain fare for comparison
The ability to select multiple nearby airports
The ability to see what aircraft you would be flying aboard and the amenities each one offers
A recap of the airlines that are offering the bargain rate
Estimate on how long the deal will last
Cost
(Updated April 6, 2023) From what we can tell, you can no longer access any deals without paying for a membership. The basic services originally available for free on the Scott's Cheap Flights website either no longer exist or are buried so deeply on the site that we couldn't find them. 
Depending on how serious of a traveler you are, it's probably worth it to purchase one of the two annual memberships.
Premium membership costs $49 and gives you access to the following:
Economy class (only) deals from even more airports plus extra deal types
Elite membership costs $199 and gives you access to the following:
Economy, Premium Economy, Business, and First class deals from even more airports plus extra deal types
Mistake fares. You've heard about airlines entering prices incorrectly on their websites and inadvertently selling trips across the world for only a few dollars. If the Going.com team notices any of these, they immediately notify premium members, giving them the opportunity to snag the deals before the airlines correct their mistakes
Overall Review
If you plan to travel more than a few times domestically per year or to travel Business or First Class internationally, it's hard to come up with a reason why you wouldn't use this app. There's virtually no downside.  You're virtually sure to find a bargain that saves you more than the yearly fee.
Adding to the simple economy of the deal, it's also a very well designed, intuitive, and uncomplicated website. It also gives you full control over the kinds of notifications you want to receive. Which means, you can sign up without fear of being slammed by travel spam and inundated with promotions and "bargains" that are irrelevant to you.
Related Links
If you found this information helpful, check out our reviews of these other travel-related apps: