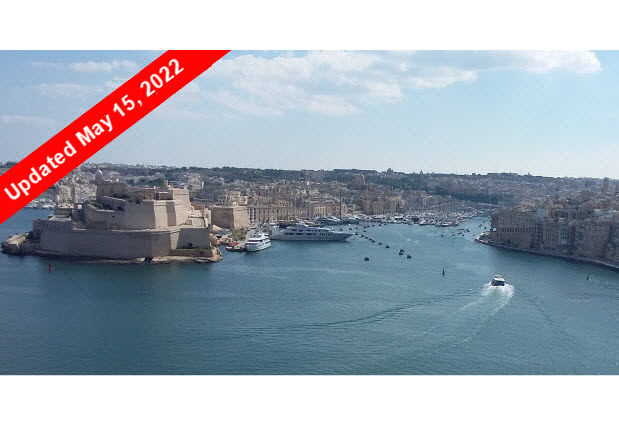 Update: May 15, 2022
From the look of it, Grimaldi Lines is no longer operating a passenger service between Malta and Sicily. That said, you still have two ferry lines to choose from. Ponte ferries announced four days ago that they will be resuming their fast ferry service between Valletta and Augusta, Sicily this coming week. Ponte will start by running ferries four days a week (Sunday/Monday/Wednesday/Friday) in May and June. Departure hours vary depending on the day of the week, but the travel time is the same: 3 hours 15 minutes each way. Tickets for May and June sailings are on sale now and for foot passengers, there are 7 different levels of seating comfort you can choose from, including Ponte Plus, Ponte Premium, and Ponte Exclusive. Full details about the differences between each level are not currently available on the website, so check here before you book to see that has changed.
The company says it will announce their sailing schedule for July, August, and beyond within the next few weeks, so you cannot make reservations for those months yet.
For details on the sailing hours, ticket prices, and location of the new ferry terminal (it's on the Valletta side of the Grand Harbour not too far from the City Gate – making it easier to get to than the remote Grimaldi terminal), check out the Ponte ferries website at https://ponteferries.com/.
Update: October 17, 2021
As of Monday October 11, 2021, the island of Sicily is classified as a White Zone, which is the level with the least COVID restrictions in the Italian ranking system. According to the Virtu Ferries website, all passengers ages 6 and over traveling from Malta to Sicily must fill in a European Union-mandated Passenger Locator Form (PLF) and must provide one of the following certificates:
a negative swab test result (PCR or rapid) taken 48 hours prior to arrival in Sicily.
an EU Digital Covid vaccine certificate.*
an EU Digital Covid-19 recovery certificate.*
*Until further notice, all passengers travelling to Sicily must also present a negative swab test result (PCR or rapid) taken 48 hours prior to arrival in Sicily. Passengers who are not in possession of a negative swab test result will be asked to do a swab test on arrival in Sicily.
Update: July 7, 2020
Ferry services have resumed between Malta and Sicily. However, if you are a U.S. citizen, you are not eligible to visit Malta or Sicily (and hence cannot get on the ferry to leave either one).
Here's what the U.S. Embassy in Malta has posted on their website:
. . . U.S. citizens residing in the United States are banned from entering Malta for non-essential travel, which includes tourism, unless you have an EU passport or meet the very narrow exceptions detailed here. The EU Commission determines who may enter the EU based on epidemiological data.  At this time, there is no projected date when travelers from the United States will be permitted to enter Malta.
and here's what the U.S. Embassy in Rome has posted on their website:
As of July 1, the European Union (known as the EU, which includes Italy) began lifting the restrictions on non-essential travel into the EU for residents of certain third countries.  This does not include United States residents, however the list will be reviewed every two weeks.  Please visit https://reopen.europa.eu/en for more information.
Update: June 10, 2020
On June 3, Virtu Ferries announced that they will resume ferry service between Malta and Sicily on July 1, 2020.
On June 10, Grimaldi Lines also announced July 1 as the date they will resume ferry service, but provided no additional details.
Passenger fares for the Virtu Ferries catamaran will increase during the shoulder seasons (July 1-17 and all of September) by 12-15% for return passengers. Vehicle fares during the same time period will increase 17-30%. This is being done to offset some of the losses Virtu Ferries will incur due to the 40% reduction on the number of passengers they are allowed to transport on each run. Peak season fares (July 17- Aug 31) will remain unchanged.
Social distancing measures will be strictly observed.
The Virtu Ferries website contains very little information. For details, refer to the Times of Malta article, "Increase in Catamaran Ticket Prices" (June 3, 2020) or contact Virtu Ferries by via telephone + 356 22069022 or email [email protected].
UPDATE: June 1, 2020
The Grimaldi Ferries website was updated this morning with the following note:
"it is reported that passenger transport is suspended until June 15, 2020."
This is the third time they have moved the date in the past month, so you should not count on ferry service actually resuming in mid-June. OnTheGoSolo.com will monitor the site daily and post any updates here.
In addition, Virtu Ferries has posted the following message on their website:
Are you travelling with Virtu Ferries?
Need information regarding Coronavirus (COVID-19)?
Email to: [email protected]
UPDATE: May 9, 2020
The Grimaldi Ferries website states the following:
"…passenger transport is suspended until May 16th, 2020" which implies that it might be reopening as early as next week. The VirtuFerries website contains no information about when passenger travel will be allowed to resume.
U
PDATE: March 10, 2020
Due to the coronavirus outbreak, all passenger and non-commercial vehicle traffic on both ferry lines is prohibited. Only commercial vehicles and their drivers are able to travel between Malta and Sicily for the time being. Neither company's website gives a specific end date for these restrictions. We'll update this website when we learn more.
————————————————————————————————————
When traveling by ferry from Malta to Sicily and beyond, there are two companies from which to choose. And the one you end up selecting will likely have a lot to do with your budget and why you're taking the ferry in the first place. It'll also depend on how much inconvenience you're willing to put up with.
This blog describes the benefits and drawbacks of the two ferry options available to you: Virtu Ferries and Grimaldi Lines.
If you're thinking of going by ferry from Valletta all the way to Salerno (Italy) jump to the end of this article to see why that's a very bad idea.
Malta to Sicily Ferry Comparison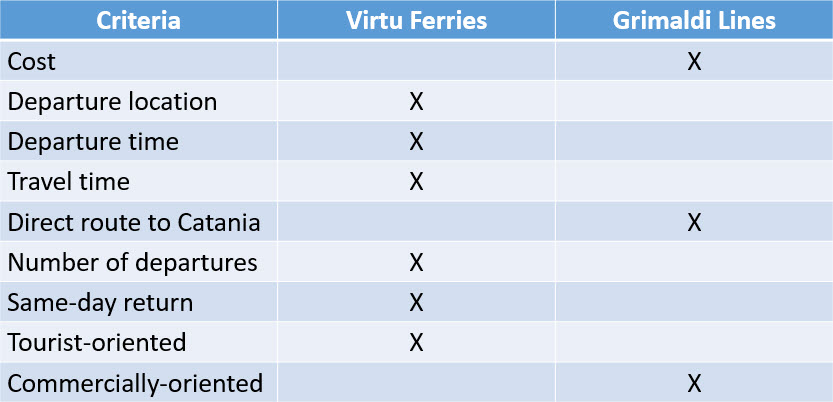 Malta to Sicily Ferry Departure Locations
The two ferry companies heading to Sicily DO NOT depart from the same location.
Virtu Ferries
Virtu ferries depart from the Virtu Ferries Passenger Terminal, which is in the Marsa neighborhood on the north side of the Grand Harbour. If you're staying in Valletta, the terminal is about a 5 minute taxi ride from the Triton Fountain. Most taxi drivers will know where it is, but just in case, the address is Xatt L-Ghassara Ta' L-Gheneb. Marsa.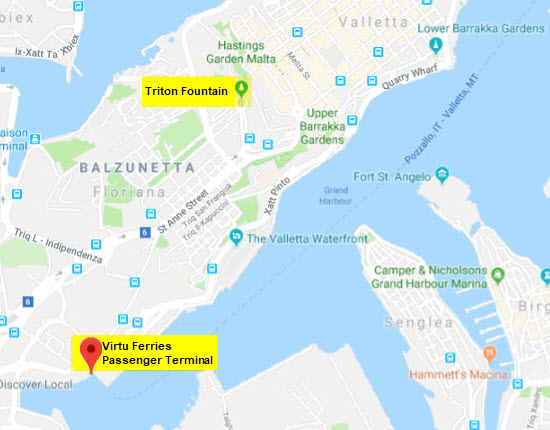 Grimaldi Lines ferries depart from Laboratory Wharf in the Paola neighborhood on the south side of the Grand Harbour. The wharf is more or less directly across the water from the Virtu Ferries Passenger Terminal. To get to it, you drive around the harbour and take Telgha Ta Ras Hanzir road until it dead ends at the docks. The trip takes about 10 minutes from the Triton Fountain, assuming your taxi driver knows where to go. The road leading to the terminal is dark and spooky and looks like a perfect place to be murdered, but trust that your driver's GPS is leading you to the correct location.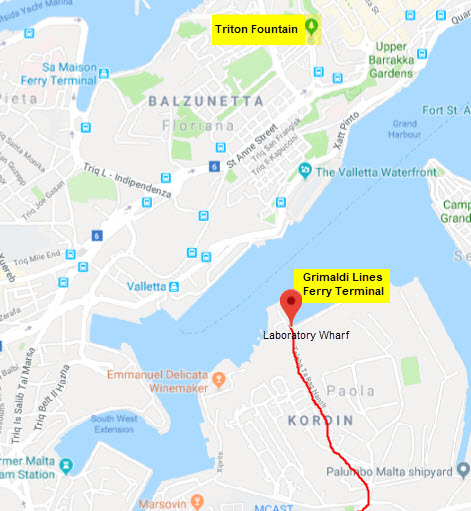 Option 1: Virtu Ferries from Valletta to Pozzallo/Catania
Virtu Ferries has a much more frequent sailing schedule throughout the year compared to its competitor Grimaldi Lines. Virtu Ferries operates a high-speed catamaran that crosses to and from Pozzallo, Sicily in about 1 hour and 45 minutes. Once in Pozzallo, passengers wanting to go on to Catania must board coach buses for the 2 1/4 hour journey north.
Travel Season
Winter: From October 1 to April 30. Sailings from Valletta to Sicily most Mondays, Thursdays, Fridays, and Saturdays. Same-day returns are possible. Check the Virtu Ferries website to confirm the day and time of departure for your trip.
Summer: From May 1 to September 30. Sailings daily. The specific hours and number of ferries per day varies by month and by day of the week. Consult the Virtu Ferries website for details.
Passenger (No Vehicle) Cost
One-way ticket: 62 euros (Pozzallo) and 76 euros (Catania)
Return ticket: 102 euros (Pozzallo) and 132 euros (Catania)
Benefits
Much faster than Grimaldi Lines
Much more modern ship
Same-day returns are possible
A later departure time, so more daylight during the voyage
More convenient departure location (Valletta side of the Grand Harbour)
More ferry departure times and dates available year round
Family- and tourist-oriented ferry service, versus the commercially-oriented Grimaldi ferry
Much of the journey is done during daylight hours, so plenty of opportunities to take photos
Drawbacks
Significantly more expensive
The Pozzallo – Catania leg of the journey is done by coach bus, not by ferry
Option 2: Grimaldi Lines from Valletta to Catania
Grimaldi Lines is, to be honest, a commercial ferry operation that happens to also take passengers. As such, it's much cheaper than Virtu Ferries, but it's not at all luxurious and kind of inconvenient.
Travel Season
Winter/Summer: Year-round, weekly sailings on Mondays from Valletta to Catania, Sicily. Check the Grimaldi Lines website to confirm the day and time of departure for your trip.
Passenger (No Vehicle) Cost
One-way ticket: 28.50 euros
Return ticket: 52 euros
Benefits
Significantly cheaper than Virtu Ferries
Ferry travels directly to Catania. No coach bus travel is required.
Drawbacks
Much slower than Virtu Ferries
Older, far less luxurious ships
Not possible to do a same-day return
Very early departure time, so few opportunities to take photos
Inconvenient departure location (across the Grand Harbour from Valletta)
Time and location of departure mean that you'll have to take a taxi to get there, adding 10-15 euros onto the cost of your trip
One ferry departure each week, year-round
Commercially-oriented operation, so not intended to be family-friendly
Valletta to Salerno by ferry: A bad idea
If you're planning to take the Grimaldi ferry from Valletta all the way to Salerno, Italy, I'd strongly recommend that you rethink that idea.
The ferry leaves Valletta at 4 a.m. and arrives seven hours later in Catania, Sicily at around 11 a.m. There is, however, a huge issue that Grimaldi doesn't tell you when you book your ticket. And they don't to tell you when you board, either. Or anywhere on the company's website. Or anywhere on your ticket. What they fail to inform you is that if you are a through passenger to Salerno, you cannot disembark in Catania. In effect, during the ELEVEN HOUR LAYOVER in Catania, you're confined to the ship.
Aside from a bar/lounge area that blasts Italian language chat shows all day long, there is nothing to do and nothing to see. During winter sailings, the onboard shop is also closed, so you won't be able to buy reading materials, playing cards, or anything. The onboard bar sells alcohol, coffee, ice cream bars, a limited range of prepackaged food, and bottled drinks. And the ship's galley serves a modestly priced lunch and dinner. So don't worry, you won't starve. But take it from someone who's experienced it, it's not an enjoyable way to spend a day.
Valletta to Salerno Workaround
If you're determined to go by ferry from Malta to Salerno, I'd recommend the following simple workaround. It'll cost more to travel this way, but it'll save you the mind-numbing all-day wait onboard.
Take the Virtu Ferry service from Valletta to Catania.
That will get you to Catania at 10:45 a.m., about 45 minutes before the Grimaldi ferry even arrives.
Spend the day looking around Catania, checking out Mt Etna, or just relaxing in one of the town's plazas.
Around 8 p.m., head to Catania's port and board the Grimaldi ferry for the 10 p.m. departure to Salerno.
Valletta to Mainland Italy Workaround
If you want to take a ferry from Valletta and still end up on mainland Italy, there's a second workaround you can resort to. Note that it's not exactly a fast or cheap option, but it certainly is unique. And it gives you the option to travel anywhere in Italy, not just Salerno.
Take the Virtu Ferry service from Valletta to Pozzallo.
In Pozzallo, walk or cab it 1 1/4 miles from the ferry terminal to the train station.
Catch the train from Pozzallo north to the town of Messina. The journey takes about 4 1/2 hours. Although Sicily is an island, Messina is connected to the Italian train network through the use of special ferries that the train cars are rolled onto and off of. Passengers stay on the train during the brief crossing of the Straits of Messina and arrive on mainland Italy in the town of Villa San Giovanni.
Once the crossing is completed, the train is on its way again. High speed trains will get you from Villa San Giovanni to Rome in just over 4 1/2 hours. Regular trains take just over 10 hours to cover the same distance.
For a terrific description and pictures of this unusual rail option, check out the following blog post on the Eurail website: To Sicily By A Train On A Ferry.