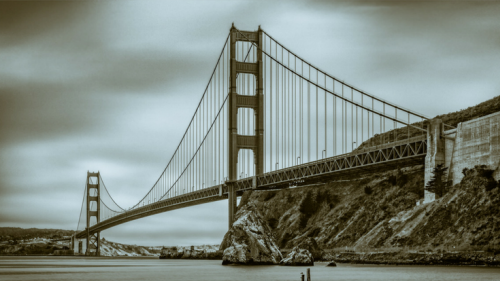 Check out these links that connect you to the latest tourist information for San Francisco, the West Coast's most charming and beautiful city. Find out about local events, tours, flights, weather conditions, medical facilities, transportation options, and much more. If there is any additional information you think we should add, let us know via the COMMENT form at the bottom of the page.
Insider's Note: No one in San Francisco or thereabouts refers to it as Frisco. If you use that term, people will make fun of you and think you're a bumpkin. And we're guessing you don't want to be thought of as bumpkin.

If you want to sound like a local, refer to San Francisco as The City. If you've got enough je ne sais quois, you can even get away with calling it San Fran.
Weather link
Click here for the latest San Francisco weather forecast.
Local's Note: Mark Twain is frequently, though erroneously, credited with the line, "The coldest winter I ever spent was a summer in San Francisco." Regardless of who actually said it, it's true. San Francisco is generally cold, windy, and overcast for much of July and all of August, so bring appropriate clothing. Around 3pm every afternoon, the wind kicks up. Soon after, a wall of fog rolls in off the Pacific and blots out whatever sunshine tourists had been enjoying. It's not a subtle change: the day can go from warm sunshine to chilly fog in less than 15 minutes. So even if it's sunny and warm when you arrive in the morning, bring warm clothes. And take your Golden Gate Bridge, Alcatraz, and San Francisco Bay photos early in the day; you won't be able to see anything after the fog settles in.
Emergency Services
Dial 911 if you are in urgent need of police, fire, or medical assistance. This number is free from pay phones, so you don't need coins to call it.
Airport Flight Info
The following site provides information about the arrivals and departures at San Francisco International Airport.
https://www.flysfo.com/flight-info/flight-status
Event Listings
The following links provide information about what's on in San Francisco and the surrounding areas during your visit.
https://www.eventbrite.com/d/ca–san-francisco/events/ — This is a great site because of the eclectic mix of events it includes. Events are categorized into the following types:
Popular
This Weekend
Music
Food & Drink
Business & Professional
Performing & Visual Arts
Health & Wellness
Free
You also have the option to buy tickets for any event directly through this website. There's no need to go elsewhere to try to track down the specific ticket vendor for each event. Note that buying from the website is slightly more expensive than buying directly through the venue. This is because Eventbrite.com adds a processing charge to the base ticket price. As an example, a $60 ticket to the Uncorked: SF Wine Festival sells for $64.04 on Eventbrite.
http://sf.funcheap.com/events/san-francisco/ — This cool site aims to provide visitors with information about free and cheap events happening throughout The City. As such, the activities tend to be less well-known and smaller than you'll find listed elsewhere. Although there are multiple activities listed per day, they are arranged chronologically rather than grouped by type. This makes it kind of hard to find the kinds of things you're interested in. In addition, no descriptions are provided: just links to each event's website. In all, it's best viewed as a useful accompaniment to the Eventbrite listings.
Activities Listings
The following links provide information about worthwhile things to do and places to visit in and around The City. Information about Pier 39 and Fisherman's Wharf is not included. That's because there are 100s of better things to do with your time than to walk around those tourist traps.
Golden Gate Bridge
Walking across the bridge is a truly memorable experience. On a clear day, it provides lovely views of the San Francisco skyline. Note that every afternoon in July and August, a wall of fog rolls in from the Pacific. The result is that the walkway can get very cold and windy very quickly. In addition, visibility can drop rapidly, making photography impossible. With this in mind, I'd recommend doing this walk first thing in the morning. For lots of interesting trivia about this iconic structure, check out the following website: http://goldengatebridge.org/research/facts.php
Crissy Field
This former military airfield is now part of the Golden Gate National Recreation Area. In addition to ample space to relax and soak up the sunshine, it offers excellent unobstructed views of the Golden Gate Bridge. For more information about this scenic and hugely popular bayside park, click here.
Golden Gate Park
If you have the time, I'd recommend spending an entire day in Golden Gate Park. In addition to miles of walking trails, you can stop and take photos of bison roaming through their paddock or anglers flycasting into practice pools. If you're looking for more structured activities, consider visiting one or more of the following:
The de Young Museum
The Golden Gate Park Aquarium
The Japanese Tea Garden 
The Conservatory of Flowers.
Click here for the Park's official website.
Alcatraz Tours
To catch one of the Alcatraz tours, you'll need to head to Pier 33. These tours, particularly the Night Tour, are some of my favorite attractions in San Francisco. Be aware that most of the tours sell out months in advance, particularly for the summer months, so buy online as far in advance as possible.
Coit Tower
This 210 foot (60 meter) tall art deco tower located on Telegraph Hill provides visitors with panoramic views of The City and the Bay and many points beyond. A highlight of any visit is the series of 27 murals painted on the walls as part of the New Deal for Artists Project in the 1930s. Admission is free to the ground floor, where most of the murals are located. Tickets for the viewing platform near the top are available onsite and online. For complete details on opening hours and ticket prices, click here.
Transportation Network
Cable Cars, Trolley Cars, Buses, and BART
The San Francisco Municipal Transit Authority is called Muni by the locals. It is responsible for running the cable cars, the trolleys, the buses, and the underground metro system called BART. To help tourists, Muni has created a website called How to Ride Muni. The site provides you with the tools you'll need to plan your route, figure out the cost of the trip, decide when to ride, and plan how you'll pay.
You can pay your fare in any of the following ways:
With exact change when you board the cable car, trolley, or bus or when you enter the BART metro station.
With a Clipper Card, that you can purchase at participating retailers like Walgreens and Whole Foods or from Muni Metro and Golden Gate Ferry ticket machines and SMART fare machines. Paying by Clipper Card is slightly cheaper than paying by cash.
With the MuniMobile app that you load money onto in advance and then swipe as you get on board. The app is available in Apple iOS and Android versions.
Ferries and Boat Tour Companies
The two main boat tour companies operating on the Bay are the Red & White Fleet and the Blue & Gold Fleet.
Red & White Fleet
This company offers four different tours of San Francisco Bay: a California Sunset Cruise, a California Twilight Cruise, a Golden Gate Bay Cruise, and a Bridge 2 Bridge Cruise.
All of these are great ways to see the San Francisco skyline in all its glory. All four pass directly beneath the Golden Gate Bridge, so you're guaranteed to get some unique views of this iconic landmark. Click here to learn more about their cruises. 
Blue & Gold Fleet
This company offers a small number of bay cruises, but focuses more on providing ferry services to Angel Island, Sausalito, AT&T Park (baseball stadium), Tiburon, Vallejo, Oakland, and a number of other points within San Francisco Bay. Click here to learn more about their cruises.
Note: If the water is rough or the day is foggy, you might want to skip this activity.
Doctors & Dentists
San Francisco has a huge number of excellent doctors and dentists available to treat tourists who require care. If you come from outside of the U.S., keep the following in mind. Quality medical care is usually massively expensive. For comparison, a basic visit to a doctor's office costs me 30 euros ($35) in Europe. The same sort of visit costs me $250 or more when I'm back in San Francisco. For a look at the fees charged by one San Francisco urgent care center, refer to the following web site: North Beach GoHealth Urgent Care Center
Taxis/Uber
Taxis are plentiful in and around San Francisco and fares are standardized. Many taxis have credit card machines, but don't assume that's the case. The two biggest taxi companies in San Francisco are:
Yellow Cab
To call one of their taxis, dial 1-415-333-3333. If you don't want to call, you can download the Yellow Cab Android app or iOS app to your smartphone.
Luxor Cab
To call one of their taxis, dial 1-415-282-4141. If you don't want to call, you car download the Luxor Cab Android app or iOS app to your smartphone.
Uber and Lyft are based in San Francisco, so their coverage is widespread throughout The City. As a rule, they tend to be very reliable and are usually cheaper than taxis.
Tourist Information Office
Complete details about local accommodations, events, attractions, and destinations is available at the San Francisco Visitor Information website. Visitor information offices are located in the following areas within The City:
Related Posts
If you found this post useful, you might also enjoy the all-in-one resources for the following cities: