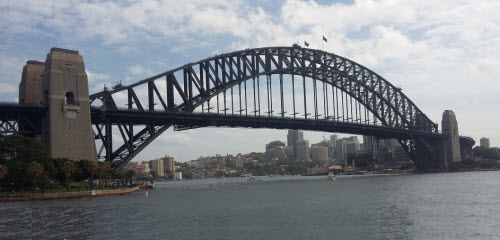 The following information about Sydney should prove useful as you explore Australia's largest city and the areas surrounding it. If there is any additional information you think we should add, let us know via the COMMENT form at the bottom of the page.
Weather
Emergency Services
Dial 000 if you are in urgent need of police, fire, or medical assistance. This number is free from pay phones, so you don't need coins to call it.
Airport Flight Info
The following site provides information about the arrivals and departures at Sydney Airport.
Events/Activities Listings
The following links provide information regarding what's on in Sydney during your visit.
Sydney Opera House shows and events — With six performance spaces and 2000 events held each year, it's not hard to find a show or event worth seeing at the Opera House.
Sydney Opera House tours and experiences — One-hour tours of the Opera House are relatively cheap and provide fascinating details about Australia's most iconic building.
The Sydney Tower Eye — You can join a standard tour for A$28, which takes you up to an indoor observation deck with 360 degree views of the city. Located 820 feet above the ground (250 meters), it provides fantastic views of Sydney and its suburbs on a clear day. Alternatively, you can pay A$70 for the guided SKYWALK tour, which takes you outside on a steel and glass platform that encircles the top of Sydney Tower. At 879 feet (268 meters), the views are unparalleled but it's not for the faint of heart.
Sydney Harbour Bridge Climb — If heights don't bother you, take a BridgeClimb tour up the arch and onto the top of the Sydney Harbour Bridge. Prices vary depending on time of day and the length of the tour, but keep in mind that (a) all of the tours are expensive and (b) the dawn and dusk tours are very popular. Book in advance if you can.
Sydney Harbour Bridge Pylon Lookout — If heights bother you or you don't have the budget to join a BridgeClimb tour, the Pylon Lookout is a cheap and easy way to see part of the bridge up close. Located inside the southeastern pylon of the bridge, it offers three levels of exhibits and excellent views of Sydney Harbour.
Neighborhood Listings
Darling Harbour — Darling Harbour is undeniably touristy, but it's still worth checking out. If you're hungry, you'll find a huge range of restaurants to choose from. You'll also find the Chinese Garden of Friendship, the Australian National Maritime Museum, the Powerhouse Museum, the Sea Life Sydney Aquarium, and many other attractions to keep you entertained.
Bondi Beach —  Readily accessible via train/bus or directly by bus from downtown Sydney. This seaside community is famous for its broad sandy beach, excellent surfing, and thriving nightlife. It also has a huge array of excellent bars and restaurants, most with crowded outdoor terraces. Although friendly and welcoming to people of all ages, this is very much a young person's town.
Manly Beach — Most easily accessed via the Manly ferry from Circular Quay. This very popular town at the entrance to Sydney Harbour features a long, wide, beautiful beach on one side and Sydney Harbour on the other. The two sides of town are joined by a pedestrian mall filled with restaurants, pubs, and surf shops. In contrast to Bondi, Manly comes across as more family oriented and less of a party destination.
Transportation Network
The public transportation system in Sydney is far-reaching and efficient. As a result, it's possible to get around most places without having to rent a car. If you're going to be in town for more than a day, buy an Opal card. This will save you about 18% each time you hop on a bus, train, or ferry. Cards can be purchased from many convenience stores and kiosks at major transportation hubs. You can top them off at the same locations or by using the automated ticketing machines inside stations.
Side Note: Bondi Beach is a very popular destination for tourists. Be aware that Bondi Junction is NOT at Bondi Beach, it's about 2 miles west of it. If you arrive by train, you can catch a bus to the beach from Stand A or B.
Doctors & Dentists
Sydney has a huge number of excellent doctors and dentists available to treat tourists who require care. Although a doctor or dentist visit won't be cheap, it'll likely be significantly less than what U.S. residents pay at home. For a look at the fees charged by one Sydney medical group, refer to the following web page: http://sydneydoctors.com.au/fees/
Taxis/Uber
Taxis are plentiful in and around Sydney and fares are standardized. If you want to book a taxi in advance, most taxi companies have smartphone apps. Links to the taxi companies and their apps appear at the following site: https://www.nswtaxi.org.au/passengers/bookATaxi.
Uber is widespread and very popular in Sydney, so it's a reliable and usually cheaper alternative to a taxi ride.
Tourist Information Office
Complete details about local accommodations, events, attractions, and destinations is available at the Sydney Visitor Information Centre website. Tourist information offices are located in the following areas within the Sydney metro area:
Circular Quay
Darling Harbour
Haymarket
Manly Wharf
Sydney Airport
The Rocks
Town Hall
Related Posts
If you found this post useful, you might also enjoy the all-in-one resources for the following cities: