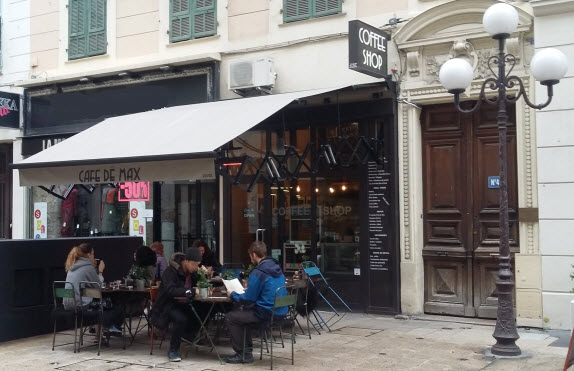 If you're looking for wifi cafes in Nice, you'll have a lot of options to choose from. This is a technologically advanced country with reliable, fast internet available almost everywhere. It's also a country where the act of grabbing a cup of coffee is practically an art form. So it's not just a matter of picking a place that serves good coffee; you've got to pick a place that matches your mood and your attitude. To help you figure out the best place for you to go in Nice, I've come up with a list of the top cafes I visit frequently. All of the cafes listed below:
Serve great coffee
Offer free, unlimited wifi
Are independent (not part of a national or international chain)
Provide a comfortable atmosphere to sit and relax
Emilie's Cafe** (a.k.a. Emilies Cookies & Coffee Shop)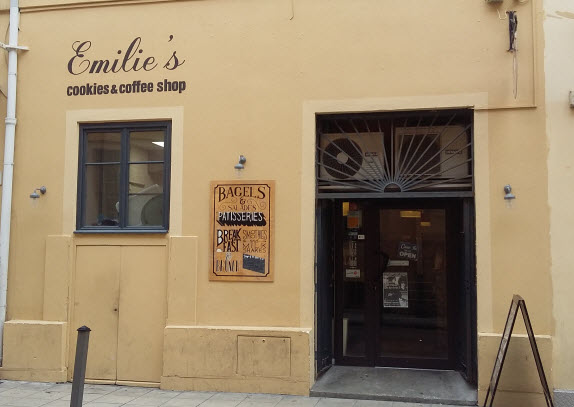 http://emiliescookies.com/fr_FR/
1 Rue de la Préfecture (just around the corner from the Palais de Justice)
9:00am–6:30pm Monday-Saturday
10:00am–6:30pm Sunday
Atmosphere: Funky, laid back, totally "not corporate"
Ideal for: Coffee with your friends or studying.
Specialties: The raspberry & white chocolate muffins are light, fresh, and tasty. If you want something more substantial, order one of the bagel sandwiches. The three types I've tried have been delicious.
Price: Very reasonable
Language issues: None. The staff all speak English to varying degrees.
**Note that there's a sister property on the other side of the park. It's very small and a bit too cramped for my taste, so I recommend visiting the rue de la Préfecture cafe instead.
Don't let the drab exterior turn you off. Emilies is one of those cafes you just hope you run into when visiting a new town. It's lively, warm, funky, and friendly and about as far from "corporate" as you could possibly get. Nearly all of the employees have tattooed arms and colorful dyed hair and the music that's playing in the background is often edgy or indecipherable. I've tried the cookies, most of the muffins, some of the smoothies, and most of the bagel sandwiches. There's nothing on the menu I wouldn't recommend. If you go, get there before the local secondary school gets out. After that time, the cafe is packed and you won't get a seat.
Café de Max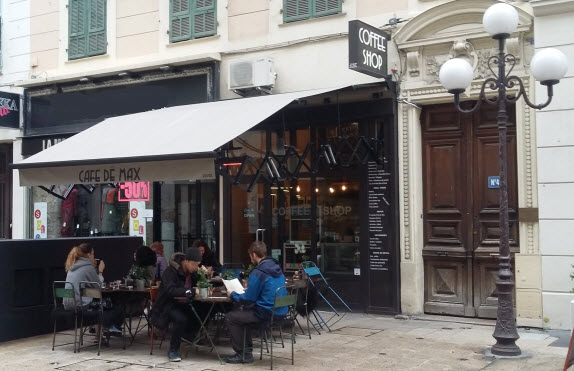 https://www.cafedemax.com/
4 Rue Paul Déroulède (across the tram line from Nicetoile shopping center)
8:30am–5:30pm Monday-Friday
9:00am–6:00pm Saturday
Closed Sunday
Atmosphere: Intimate, warm, and cozy
Ideal for: Sitting and reading or people-watching
Specialties: Fantastic fruit-flavored cakes/breads, which vary from day to day. The pear & ginger and the apricot ones, in particular, are not to be missed.
Prices: Reasonable
Language issues: None. The two owners speak enough English to take your order without complications. The younger woman who occasionally works there is nearly fluent in English.
This was one of the best accidental discoveries I had while walking around Nice last winter. I was on my way past it when it suddenly began to pour rain, so I ran inside and ended up grabbing a coffee. I've been going back regularly ever since. It's tiny inside — just enough room for a bench seat along the wall and six or seven single tables in front of it. On a cold, rainy day, it's an ideal spot to sit quietly and read a book surrounded by the aromas of fresh coffee and warm pastries. In good weather, the main draw is being able to sit outside under the awning and sip a coffee as the world rushes by.
Marinette Coffee Kitchen Bakery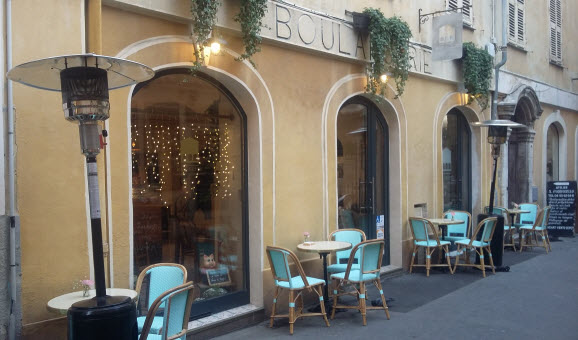 https://www.facebook.com/marinettekitchen/
13 Rue Colonna d'Istria (in the small street directly behind the Cathédrale Sainte-Réparate)
8:00am–7:00pm Wednesday-Sunday
Closed Monday and Tuesday
Atmosphere: Classy and chic, but very welcoming.
Ideal for: Quiet conversation or a first date
Specialties: All of their baked goods, especially the mini chocolate cakes.
Prices: Slightly above average
Language issues: The owners speaks good English.
Unlike the other cafes in this list, Marinette has a full restaurant connected to it (in a separate room), so you can have a full meal here as well as just a coffee and pastry. Since opening less than a year ago, the cafe seems to have developed a steady following. It always has at minimum a small crowd inside, even in the middle of winter when tourists are rare. The clientele is decidedly different than you find in a place like Emilies, which is around the corner. You wouldn't see anyone working on a laptop computer, for example. The atmosphere is more subdued and more upscale than in most other cafes nearby, but it still manages to be very comfortable and inviting.
Cosy Cafe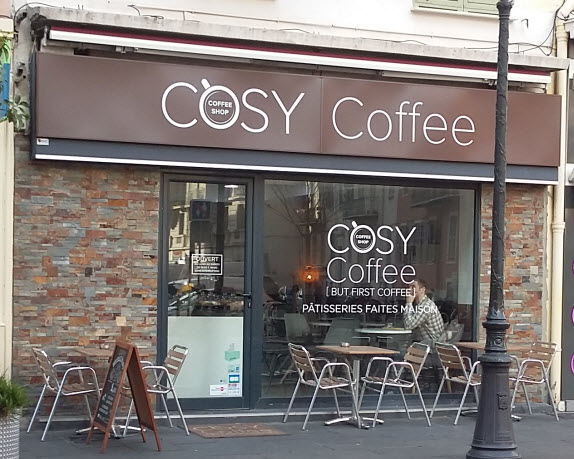 https://www.facebook.com/CosyCoffeenice
42 Avenue de la République
8:30am–7:00pm Monday-Saturday
Closed Sunday
Atmosphere: Friendly and, as expected, cosy
Ideal for: Quiet conversations or peaceful reading
Specialties: The different varieties of home-baked cookies are a sure bet.
Prices: Reasonable
Language issues: The owner speaks enough English to take your order.

Cosy Cafe is the newest addition to my coffee shop rotation. It's located just down the tram line from Place Garibaldi and is quite small inside, with seating for six or eight on the sidewalk out front. The seating arrangements inside are a bit chaotic due to a strange floorplan, but it's definitely an appealing little place. So far, I've tried the brownies (pretty good), the apple cake (quite good) and the chocolate chip cookies (so good you'll want someone to slap you to make sure you're not dreaming). The "cafe americain"s come with a small jug of hot water so you can control how strong it'll be — always a nice touch. Overall, it's a place I look forward to visiting again and again over the next year or two.
Cafe Paulette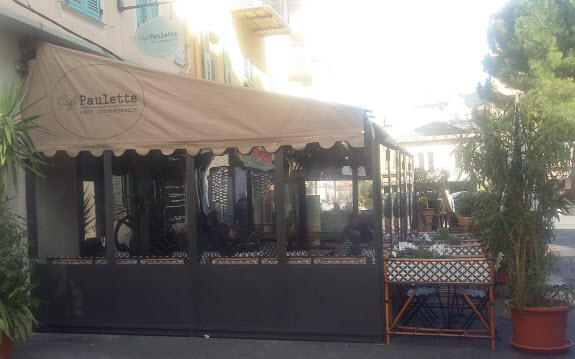 https://www.facebook.com/Caf%C3%A9-paulette-244241859332875/
15 rue Bonaparte
8:00am–12:30am Tuesday–Saturday
Closed Sunday and Monday
Atmosphere: Stylish and friendly
Ideal for: Reading the morning paper, engaging in quiet conversations, or just relaxing with great food
Specialties: The "Petit-déjeuner complet" (Complete breakfast) is my favorite.
Prices: Kind of pricey, but well worth it.
Language issues: None. Most of the staff speaks English.

This cafe is my favorite in Nice and is also the newest addition to this list. It's a wonderfully place to eat that just screams "French understated elegance." Jam-packed for dinner every night, it's actually the "Complet" breakfast of bread, fresh juice, coffee, and yogurt that keeps me coming back twice a week. All of the food is locally sourced, fresh, and delicious.
Related Posts
If all of this talk of cafes has got you hungry, check out our blog post Best places to eat in Nice, France. In it, you'll find dozens of recommendations on where to eat in town, from salads to fish and from takeaway to fine dining.