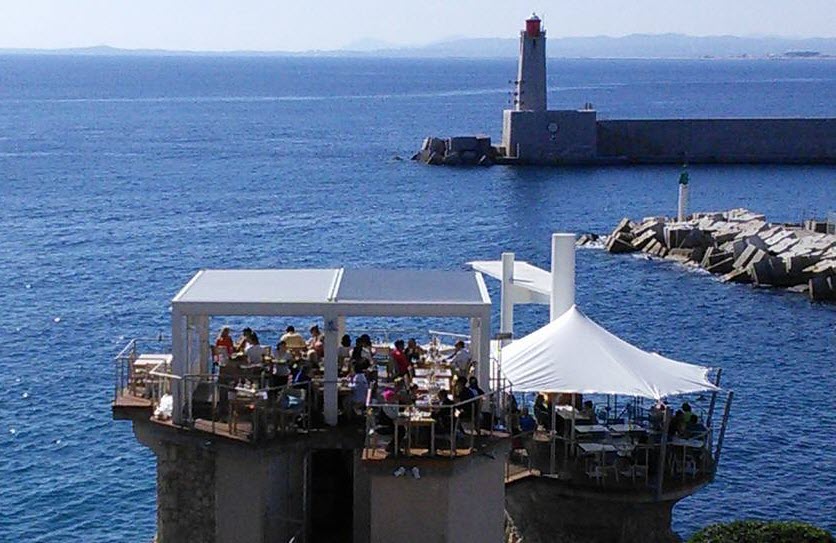 If you're looking for the best food in Nice France, you have an abundance of great places to choose from. On both sides of Castle Hill, you'll find a wide variety of excellent restaurants, cafes, boulangeries, and patisseries providing delicious meals and drinks at all price points. The following list aims to narrow down the field of options by showcasing the best of the best as of August 2019. The cuisines included in the list range from French and Italian to Mexican and American. This list will be updated periodically as new restaurants open and older restaurants close or change.
UPDATED February 28, 2022  ***Added a new "Best Coffee" recommendation since Delibo Cafe is no longer in business. They still have two pastry shops, but they're not sit and stare locations for coffee lovers. ******
Breakfast
Best coffee
Café de Max (No website). 4 Rue Paul Déroulède (across the tram line from Nicetoile shopping center)
8:30am–5:30pm Monday-Friday; 9:00am–6:00pm Saturday; Closed Sunday. It's tiny inside — just enough room for a bench seat along the wall and six or seven single tables in front of it. On a cold, rainy day, it's an ideal spot to sit quietly and read a book surrounded by the aromas of fresh coffee and warm pastries. In good weather, the main draw is being able to sit outside under the awning and sip a coffee as the world rushes by.
Best European-style breakfast
Cafe Paulette. 15 rue Bonaparte. 8:00am–12:30am Tuesday–Saturday. Closed Sunday and Monday. A stylish and friendly place to eat that just screams "French understated elegance." Jam-packed for dinner every night, but it's the "Complet" breakfast of bread, fresh juice, coffee, and yogurt that keeps me coming back. Most of the staff speak English.
Best pancakes
Pôp-ô-thym (no website), 20 Cours Saleya, halfway along the flower market, on the side towards the sea. 8:45am–Midnight Sunday-Friday, 6:30am–midnight on Saturday. (Hours reduced in the off-season.) These guys have a big menu, but if you're into pancakes and don't mind non-buttermilk ones, this is THE place to go. If you order "just pancakes," you get a plate with 8 pancakes on it. And they're not dainty little silver-dollar pancake; they're each the size of a bread plate. If you order pancakes with eggs & sausage/bacon, you "only" get 6 pancakes. Staff all speak English and the owner is a real character who will likely drop by your table to see how you're doing.
Best bread
Pain & Cie. rue St François de Paule, right at the flower market. Open 8am–10:30pm every day. Service is frequently slow, painfully inattentive, and often wildly inaccurate, but bear with them. If you're a bread lover, you'll forgive them once you taste the variety of wheat, white, and sourdoughs they bake on site. About half the staff speak English.
Lunch
Best cheap French lunch
Creperie Le Trimaran, 13 Place Saint-François. 12-3 Monday-Friday, Noon-5:30pm Saturday-Sunday. At only 9.95 euros, their "crepe and a gallette" meal deal is a delicious treat. Staff speaks enough English to make a sale. During August, the creperie was occasionally open at night, so it seems their hours are different in the summer. Well worth popping by to see if they're open if you're in the mood for a light dinner.
Best sandwich
La Gratta, 56 Boulevard Stalingrad / 1 Blvd Franck Pilatte. A tiny kiosk under the huge tree where Boulevard Stalingrad becomes Boulevard Franck Pilatte at the port. Offers a wide assortment of sandwiches and paninis at very low prices — most around 4 euros. Officially open from 8:00am–7:00pm, but the actual hours vary by season and the owners don't open if the weather is bad. Two owners speak at least enough English to make a sale.
Best view restaurant (cheapish)
Le Café Du Port (no website), Quai Amiral Infernet. 7:00am–10:00pm Thursday–Tuesday. Closed Wednesday. Shut for winter break from mid-February to mid-March. Tiny café directly across the road from the port on the Castle Hill side. Unrestricted views of the huge ferries when they come in and out of the harbor. Staff speaks English.
Best view restaurant (not cheap) – SUMMER ONLY
Déli Bo Les Bains, 17 promenade des Marinières, Villefranche-sur-Mer. The restaurant opened for the summer season on May 25. Open from 10:00am–6:00pm every day during summer. Located right on the sandy beach in Villefranche-sur-Mer, not Nice, so maybe it shouldn't be on this list. But I'm including it for two reasons. First, it's not far outside the city with easy car, bus, and rail access. And second, because I take every guest who comes to visit me there. The simple but tasty menu, the views out over the Mediterranean, the upscale yet beachy vibe, and the attentive and friendly staff make it a guaranteed great experience. And save room for the Café Gourmand dessert. You'll get a cup of coffee and four bite-sized pastries that'll make your taste buds sing and your heart soar. It's a pity this place is only open during summer and only open for lunch – though it makes each trip that much more special, I guess.
Best touristy restaurant
Blast American Bar, 8 Place Charles Felix. Hours not listed online or at the restaurant. Despite being in the Cours Saleya (flower market), which is one of the most popular tourist areas in town, it's an enjoyable place to sit and have an American meal like a burger, nachos, or a sandwich. Always crowded and reasonably priced given its location. Staff members all speak English.
Dinner
Best Indian
Tandoori Flame, 1 rue Centrale. 11:30am–3:00pm, 6:00pm–10:00pm Monday–Saturday. Closed Sunday. Very cheap and tasty food make this a must for Indian food lovers. The Poulet Dopiaza (chicken dopiaza) is a mildly spicy, flavorful favorite of mine. The staff members all speak English.
Best pasta
Les Amoureux, 46 Boulevard Stalingrad. Tuesday-Saturday 7:00pm-10:00pm. Closed Sunday and Monday. Reservations required as there's always a line of people waiting to get into this extremely popular, cosy little place. Due to "family reasons," the restaurant is frequently closed for weeks at a time, so that's another reason to call in advance. Most staff members speak English.
Best Mexican
***100% Tacos, 1 rue du Pontin. Noon–11pm Wednesday to Sunday. Closed Monday and Tuesday. Despite its name, this place serves quesadillas, too. There's interior seating for up to ten people plus additional standing room for two at the walk-up counter out front. The tinga de pollo (spicy shredded chicken) tacos are simple and delicious as are the bean and cheese quesadillas. Kind of expensive for what you get, but if you're craving Mexican, it's worth it. The owner spoke to me in French, Spanish, and English (in the same conversation), so you won't have trouble communicating.
Best American-style pizza
La Pizza Cresci, 34 rue Massena. 11:30am-1:00am 7 days/week. Wildly unhealthy and sinfully delicious. One of the few places I've found in Europe that serves what Americans would call a "real" pepperoni pizza. Chewy crust and loads of melted cheese in every bite. Forget your arteries and indulge. Most staff members speak English.
Best super cheap, delicous takeaway pizza
Made in Sud Pizzeria 17 Boulevard Stalingrad. Tuesday-Sunday 7:30pm-10:00pm. Closed Monday. This one is a new addition to my rotation. Most pizzas are 9 euros or less and the taste is excellent. Mainly a takeaway place, though there is some seating upstairs and a two tables downstairs. Staff speak Italian, French, and English, usually in the same sentence.
Best mussels
L'Escale (no website), 12 Quai des Docks. On the opposite side of the port from Castle Hill. 1:00pm–2:30pm, 7:00pm–10:00pm every day. Mussels are not a food I eat, but two friends at separate times have told me the mussels here are some of the best they've ever had. Some members of staff speak English.
Best view restaurant (expensive)
Le Plongeoir. 60 Boulevard Franck Pilatte. Where else can you dine atop a large boulder surrounded by the Mediterranean and watch the ferries come in and out of the port just 100 feet away? Closed January 8 to mid-March. Hours and opening days vary depending on season. Doesn't open on rainy days. Best to call in advance if you're hoping to dine there outside of the summer season, when it's open every day. Staff speaks English.
Best Thai
Le Banthai, 29 rue Droite 11:00am–2:30pm, 6:30pm–10:30pm Thursday-Tuesday (closed Wednesdays). Even in winter, the staff turns away dozens of would-be diners each evening, so call in advance and make a reservation. The menu is small, but everything I've tried has been delicious. They have a sister property called Banthai Seafood five minutes walk away at 9 rue Pairolière with the same opening hours, but closed Mondays rather than Wednesdays. Staff members all speak English.
Best cafe to socialize in
Le Café Des Chineurs en Culotte Courte, 1 Rue Cassini (on the ground floor of the Hotel Geneve), 11:00am–12:30am Monday–Saturday. Closed Sunday. The name of this very popular cafe translates to The Cafe of the Junk Dealers in Short Pants. That, alone, should give you an indication that it's not your traditional cafe. The menu is an eclectic mix of tapas, salads, burgers, and sandwiches, many of which feature Asian flavors and ingredients. The big drawn here, though, is the outdoor patio, which is filled year-round with young Niceans out to socialize. Despite the higher than average prices, it's one of my favorite cafes in town and a place I bring all of my guests. Most staff members speak English.
Note that because the clientele is mainly young French locals, the outdoor patio is always filled with chain-smokers. If this bothers you, take one of the inside seats that has a view of the exterior.
Snacks
Best socca
René Socca, 2 rue Miralhéti. 9:00am–9:00pm Tuesday–Sunday. Closed Monday. If you haven't had this local favorite in Nice, socca is a kind of flatbread made from chickpea flour. It's cooked in an enormous pan and then scraped up and served hot to the customers on paper plates. Despite the popularity of this dish — the line at this restaurant can be 30 people long on weekends — socca is about on par with corn tortillas in terms of flavor.
Best nachos
Ma Nolan's Irish Pub, Nice Port, 5 Quai des Deux Emmanuel. 11:00am–2:00am everyday. Fantastic nachos that are not even vaguely healthy (and not even vaguely Irish, either). Well worth the 100 miles you'll need to run to burn off all of the calories.
Best pastries
In a city filled with great pastry shops, I'd say it's a tie between the following:
Pâtisserie Serge Serain 7 Place Garibaldi, 7:30am–7:30pm, Tuesday–Sunday. Closed Monday. Offers a broad selection of top-quality, beautiful looking, delicious pastries as well as a range of house-made artisan chocolates. Dine in or take away available. Some staff speak English.
Boulanger Pâtissier du Port (no website). 11 rue Fodéré. 7:30am–5:30pm Monday–Saturday. Closed Sunday. Located directly behind the church of Notre Dame at the port. Much smaller than Patisserie Cappa and no seating or coffee available. The pastries (and the bread) are excellent and gorgeous to look at. Owner speaks enough English to make a sale.
Best tapas
El Merkado. 12 rue Saint-François de Paule. Directly across the street from the Hôtel de Ville (City Hall). Popular with young locals more than tourists, this place has a very relaxed, friendly vibe. The large variety of reasonable priced tapas makes it a fun place to hang out and catch up with friends or just relax after a day of sight-seeing. Most staff speak English.
Related Articles
If you enjoyed this list of the best food in Nice France, check out our related article, Wifi Cafes in Nice: Caffeine, Comfort, and Connectivity.